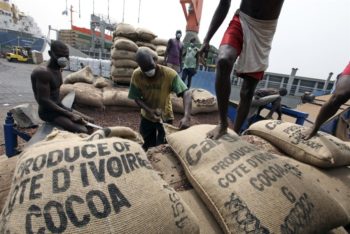 The world's top cocoa producer, Ivory Coast, will impose heavy fines and prison sentences to combat illegal smuggling of agricultural produce under a government decree approved on Thursday.
Cocoa smuggling is a persistent problem for Ivory Coast which regularly loses a portion of its crop to traffickers. It has also seen significant smuggling in recent years of cashew nuts, of which it is also the world's leading producer.
"Given the extremely serious threat illicit exportation of agricultural products … represents for the national economy, this decree envisages particularly severe punishments," government spokesman, Bruno Kone, said after a cabinet meeting in Abidjan.
He told reporters that those found in contravention of the measure would risk up to 10 years in prison, fines of up to CFA50 million ($89,300) and confiscation of the goods.
Kone said that existing laws against the illegal sale and smuggling of agricultural commodities had not proven dissuasive enough to stop the practice.
Much of the produce trafficked out of Ivory Coast crosses into neighbouring Ghana where smugglers take advantage of historically higher farmer prices for cocoa and a lower tax regime for cashew nuts.
Ivory Coast is also a major African producer of cotton, natural rubber, robusta coffee, palm oil and tropical fruit.
Agency Report