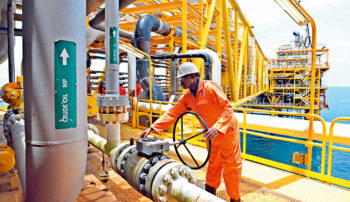 The Ijaw Youth Council (IYC) has issued a 90-day ultimatum to international oil companies (IOCs) operating in the Niger Delta to relocate their headquarters to the region as directed by the federal government.
IYC President Pereotubo Oweilaemi, who spoke at a press conference on Wednesday in Yenagoa, Bayelsa State, said the relocation has become necessary in order to foster sustainable development in the oil rich region.
It will be recalled that Acting President Yemi Osinbajo had on February 13, 2017 directed oil companies operating in the Niger Delta to relocate their headquarters to the region.
"You are all aware that not too long the Acting President, Prof. Yemi Osinbajo, had asked all IOCs to relocate their headquarters to the area they producing the oil, but as we speak, the companies have no way to comply with the directive.
"We want to state it categorically that irrespective of some security challenges, this region is the safest in the country for business. There is nowhere in the country without pockets of criminal activities, but unlike the forgone past, our [Niger Delta] states are safe and very conducive for business.
"We therefore once again call on the companies to, as matter of urgency, return to our area for the interest of all stakeholders.
"We cannot continue to pay the price of of having our land suffer from oil exploration activities, while other states benefit from the taxes that are due to us," he said.
Oweilaemi noted that if the oil companies could relocate headquarters to the region, more jobs would be available for the youth in Niger Delta, which would lead to a reduction in crime.
"The 90-day ultimatum started July 12 and in no distant time the 90 days will elapse. So, we want immediate compliance with the federal government's directive," the group's president stated.
Oweilaemi also decried the slow pace of infrastructural development in the region, pointing out the poor state of the roads, railroads, deep sea ports, and export processing zones.
He then urged the federal government to fulfill its promises to the people and work to improve the region's infrastructure.
Copyright Ships & Ports Ltd. Permission to use quotations from this article is granted subject to appropriate credit given to www.shipsandports.com.ng as the source.