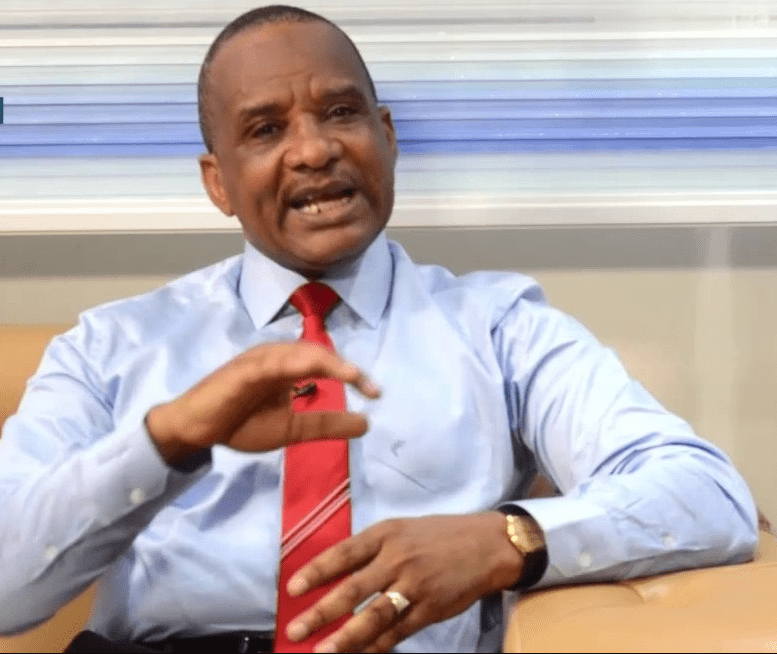 Since Dr. Bashir Jamoh became the Director-General of the Nigerian Maritime Administration and Safety Agency (NIMASA) in March 2020, he has not disappointed the rank and file of the apex maritime regulatory agency in the area of staff welfare and promotion. As someone who has been with the agency for more than 25 years, rising from the ranks, he has justified the confidence the entire staff of NIMASA reposed in him as one of their own, as well as their jubilation on his appointment as head of the maritime agency.
Within about 20 months of being at the helm of affairs, Jamoh has carried out two major promotion exercises that touched almost every staff of the agency. With these promotions, Jamoh has demonstrated clear and commendable understanding of the challenges facing NIMASA. One of such challenges had been inadequate motivation of staff leading to low morale and low productivity. 
Jamoh as the NIMASA Director-General must have drawn experience from many years of delayed promotions in the agency by non-career, political appointees who failed to understand or appreciate the importance of staff promotion and advancement in an organization – whether public or private. In the past, many members of staff of NIMASA had often complained of denied or delayed promotions, as some heads of the agency engaged in selective promotions, and recruitment of kinsmen who were elevated above serving staff with higher qualifications and experience. 
This secret recruitments of kith and kin and friends, and placing them above serving staff killed staff morale in the agency, leading to insubordination, and sometimes, writing of petitions to the supervising ministry. The resultant disharmony and low morale, no doubt, adversely affected the agency's service delivery and overall productivity. 
Today, these bickering and complaints are no longer heard in NIMASA as Jamoh continues to carry every staff, irrespective of rank or position, along in promotion exercise, thereby boosting their morale for greater productivity. The benefits of this enhanced staff morale are evident in the increased productivity now being recorded by the agency in the discharge of its statutory responsibilities as a maritime safety and administration agency. It is also seen in the increased harmony and revenue collection for government as statutorily provided.
In the latest promotion exercise carried out a few weeks ago, a total of 298 staff members were promoted to higher positions. Three new Directors were appointed, 62 staff were promoted to Deputy Directors while 233 others were elevated to their next grade levels.
Similarly, in the first promotion exercise in August last year effected by Jamoh barely five months after becoming the DG of NIMASA, 595 staff were promoted, including nine Directors. These directors and other staff had before then stayed long in their various grade levels and positions. A breakdown of the promotion exercise showed that nine Deputy Directors were elevated to substantive Directors on Grade Level 17, while 45 Assistant Directors were promoted to Deputy Directors, and 71 Grade Level 14 officers were promoted to Assistant Directors.
All these promotions have brought smiles on the faces of the entire NIMASA personnel, engendering renewed vigour and commitment in the discharge of their duties. It has also been an instrument in the hand of Bashir Jamoh to reposition the agency for optimum performance.
Jamoh as career public servant amply understands the role a well-motivated staff can play in the achievement of organizational goal. He believes that a well-motivated NIMASA staff is the driving force for the transformation of the maritime industry for national economic development. In the first promotion he carried out less than six months of becoming the NIMASA Director-General, Jamoh told the promoted staff: "To whom much is given, much is expected. This promotion is intended to reinvigorate the attitude of staff to work and bring about more commitment towards transforming the fortunes of the maritime sector."
In the same vein, in the latest promotion, he reiterated his management's commitment to its promise to always motivate staff and give them reason for hard work. He stated that the promotion process was rigorous but fair to all involved.
"I congratulate the newly promoted staff and say to them that the reward for hard work is more work. Promotion is the reward for hard work, and a qualification for higher responsibilities," Jamoh said, imploring all the promoted staff to rededicate themselves to duty.
 "On our part as Executive Management, we will continue to ensure that staff are promoted as and when due so that they are motivated to give their best in the agency's drive to make maritime a key element in the country's economic diversification agenda," he reassured.
Jamoh's efforts at boosting staff morale and repositioning the agency for greater productivity does not end with promotions. He has worked out and made a proposal for staff salary increase across board. This proposal is awaiting approval by the Minister of Transportation. When this sails through, it will surely put more smiles on the faces of NIMASA staff that had for long been agitating for enhanced salary.
To say that the promoted staff are excited is to state the obvious. Every worker desires to progress in his/her career. Moving a worker to a higher rank and assigning him/her greater responsibilities can significantly boost morale. Every worker also wants to enjoy some of the things that are usually attached to the promotion, such as the perks, increased allowances and salary packages, accommodation, and general enhanced living standard. 
The advancement of an employee from one job position to another job position that has a higher salary range, a higher job title and often more and higher level job responsibilities is what every qualified employee looks forward to. In NIMASA, many employees had been denied this over time until Jamoh's elevation to the position of Director General. 
It must be stated that the sole purpose of promotion in any organization, be it public or private, is to motivate the workers towards achieving organizational goals. Bashir Jamoh recognizes this to the fullest and has demonstrated this in promoting staff as and when due. The responsibility of NIMASA as the nation's apex maritime regulatory agency is enormous and, therefore, requires a well-motivated and enthusiastic workforce to execute.
Workers are persuaded to give their best in their jobs if they are motivated through promotion. To be motivated means to be moved to do something. And a worker who is not excited, or lacks interest and enthusiasm, which are the primary components of job satisfaction, cannot render better services to the organization. Promoted workers are easily moved to pursue after organizational goals and objectives. It is in the light of all these that Dr. Bashir Jamoh should be commended for making staff promotion and welfare a priority. 
It is unfortunate that in many organizations, especially government establishments, employee promotion is a controversial issue between the management and the personnel. Some workers whose promotions are long overdue are either unnecessarily denied or delayed. As a result, career aims are aborted and organizational goals and objectives are hindered in a retrogressive manner.
It is gratifying that this is no longer the case in NIMASA. Thanks to Dr. Bashir Jamoh who is determined to reposition the agency for optimum performance and productivity.