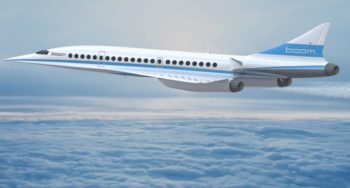 By Jite Eriabie
Denver-based startup Boom Supersonic said on Tuesday Japan's No.2 carrier Japan Airlines Co Ltd  has invested $10 million in the company, which is building a supersonic passenger aircraft it claims will be faster, quieter and more affordable to fly than Concorde.
Boom is developing a 55-seat plane that it says will be able to more than halve the flight time from New York to London to just three hours and fifteen minutes.
The firm has said its jetliner, expected to enter service by the mid 2020s, will fly at speeds of Mach 2.2, 10 percent faster than Concorde, which popularized supersonic jet travel in the 1970s.
As part of the deal Japan Airlines, which has the option to purchase up to 20 Boom aircraft, will provide its knowledge and experience as an airline to hone the aircraft design and help define the passenger experience for supersonic travel, the companies said on Tuesday.
Boom's aircraft is expected to produce a sonic boom that would be at least 30 times quieter than Concorde's, which was dogged by high operating costs and fuel consumption and low capacity utilization.
Boom estimates that fares for its aircraft would be 75 percent lower than Concorde's and comparable to current business class tickets, due to its better fuel efficiency.
Boom, whose suppliers include General Electric Co (GE.N), Honeywell International Inc and Netherlands-based TenCate Advanced Composites, has reportedly received 76 pre-orders from airlines, excluding the option of up to 20 aircraft from Japan Airlines.
Boom is backed by venture capital firms such as 8VC, RRE, Lightbank, Y Combinator and Caffeinated Capital, as well as angel investors including Sam Altman, Paul Graham and Greg McAdoo.
As of March 2017, Boom had raised about $41 million in funding. 
Copyright Ships & Ports Ltd. Permission to use quotations from this article is granted subject to appropriate credit given to www.shipsandports.com.ng as the source.