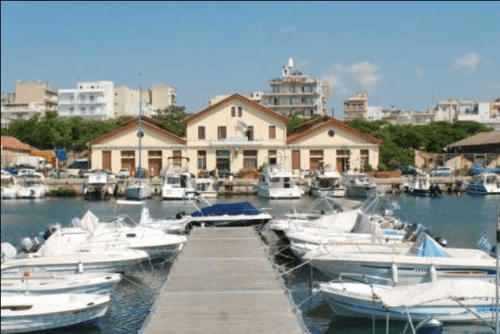 Japan has joined countries expressing interest in the privatization of northern Greek port Alexandropoulis, which is being developed into a major energy hub through the LNG trade to serve Greece, and the wider Central and Southern Europe.
It has attracted interest from the US, Cyprus, Israel, Qatar and Algeria, as well as from large international LNG traders, according to Greek utilities company Gastrade.
Japan's Ambassador to Greece, Yasuhiro Shimizu, paid a visit to the Alexandroupolis Port Authority December 13 accompanied by a delegation of businessmen including representatives of Hitachi, which is currently building the Thessaloniki metro system which connects the port to the city's network.
Following the meeting and briefing with the port authority's management, Shimizu said "we are moving ahead with the drafting of a business plan".
Pointing out the business environment in Greece has space for improvement, Shumizu said the business environment was improving  "under the new government" and expressed the hope that reforms will continue.
"As the privatization of the port of Alexandroupolis is drawing nearer, it is important that I find myself here, accompanied by associates and representatives of Japanese companies located in Athens, Thessaloniki and Istanbul," he said, noting the port is being turned into a energy hub.
Privatisation of Alexandroupolis and neighbouring port, Kavala, is a priority of the Kyriakos Mitsotakis government.
Besides the privatisation of the port, Japan is interested in "other activities related to the privatisation," like, energy, transportation, shipping generally and the linking of the port with the railway network, said.
Alexandropoulis Port Authority president Konstantinos Chatzimichail said that during the meeting the geostrategic role of the port was highlighted "as both a natural end of the Suez Canal and as a secure economic and military gateway to the Balkans and eastern Europe."
"In this context, we discussed a series of issues that Japanese companies could be involved in, in three areas: port, energy and a Floating Storage Regasification Unit (FSRU) and railway, three major projects which are interconnected and make our area very attractive," he explained. 
Japan joins the US, Cyprus, Israel, Qatar and Algeria in expressing interest in the port.
Meanwhile, the project involving Gastrade, in which Peter Livanos-backed GasLog is a 20% partner, involving a 6bn cumtr per year terminal is set to come on line second quarter of 2021.
This project comprises an offshore FSRU, a mooring and a system of a subsea and onshore gas transmission pipelines, through which natural gas will be delivered to the Greek National Natural Gas Transmission System. It will be stationed 10km offshore in the Sea of Thrace, 17.6km southwest of Alexandroupolis.