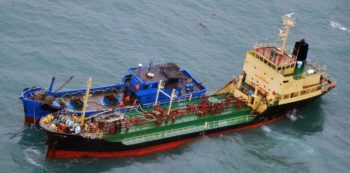 Japan has discovered another North Korean tanker it suspects of transferring goods with a vessel in defiance of U.N. Security Council resolutions, the Foreign Ministry said on Tuesday.
It was the fourth time Japan has suspected such an illegal transfer in recent weeks and comes as the Trump administration and key Asian allies prepare to expand interceptions of ships suspected of violating sanctions on North Korea.
North Korea last year conducted dozens of missile launches and its sixth and largest nuclear test as it pursues its goal of developing a nuclear armed missile capable of reaching the United States, triggering deeper U.N. Security Council sanctions.
The North Korean-flagged tanker "Chon Ma San," designated by the United States as a sanction target, was spotted by a Japanese surveillance plane with the Maldivian-flagged tanker "Xin Yuan 18" some 250 km (156 miles) east of Shanghai on Saturday, the Foreign Ministry said in a release.
"Judging from the fact that the two vessels lay alongside each other with their lights turned on at night, both vessels could have been engaged in some type of activity," the release said.
"Following a comprehensive assessment, the government of Japan strongly suspects that they conducted ship-to-ship transfers" banned by U.N. Security Council resolutions, it said.
In the latest attempt to defuse the crisis over North Korea's weapons programs, South Korea urged Washington and Pyongyang to give ground to allow for talks and U.S. President Donald Trump reiterated he would negotiate with North Korea, but only under the right conditions.
Washington on Friday slapped sanctions on dozens more companies and vessels linked to North Korea's shipping trade and urged the United Nations to blacklist a list of entities, a move it said was aimed at shutting down North Korea's illicit maritime smuggling activities to obtain oil and sell coal.  
Copyright Ships & Ports Ltd. Permission to use quotations from this article is granted subject to appropriate credit given to www.shipsandports.com.ng as the source.