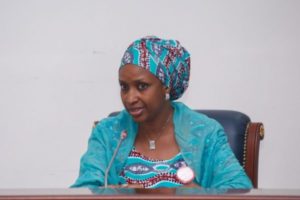 The Management of the Nigerian Ports Authority (NPA) is not planning to retrench staff, Managing Director , Ms Hadiza Usman said.
She spoke on Thursday during a tour of Warri Port and described the story of retrenchment as a "rumour".
Usman said rather than retrench staff, NPA would recruit more workers.
She said that the management had tasked the General Manager, Human Resources, to bring up ideas on succession plan in the organisation.
Usman said the management has introduced performance-based appraisal whereby every personnel would be appraised based on his or her performance,
She said the management would take remedial measures so as not to allow ships to be grounded at the Escravos breakwaters due to high siltation.
She suggested that emergency remedial measures should be put in place to ensure that no vessel runs aground at the Escravos breakwaters.
The Port Manager of Warri Port, Simeon Okeke, had highlighted the dangers posed by the breakwaters and the channels leading to the port due to high siltation.
He said that in the absence of vital buoys, it has become impossible to navigate, adding that a number of times, vessels went aground.
The Port Manager also lamented that the right vessels were not coming into Warri Port because of the shallow nature of the berths.
Okeke suggested dredging and mooring of the channels of Warri Port as well as the removal of wrecks.
He said that more manpower should be recruited into the various departments.
The port manager also talked about the problem of encroachment of port land and litigations.
Okeke said there should be a review of port tariffs and restructuring of the port.
"The port needs intensive promotion to give the correct image as well as the complete rehabilitation of the facilities in the port," he said.
Copyright Ships & Ports Ltd. Permission to use quotations from this article is granted subject to appropriate credit given to www.shipsandports.com.ng as the source.