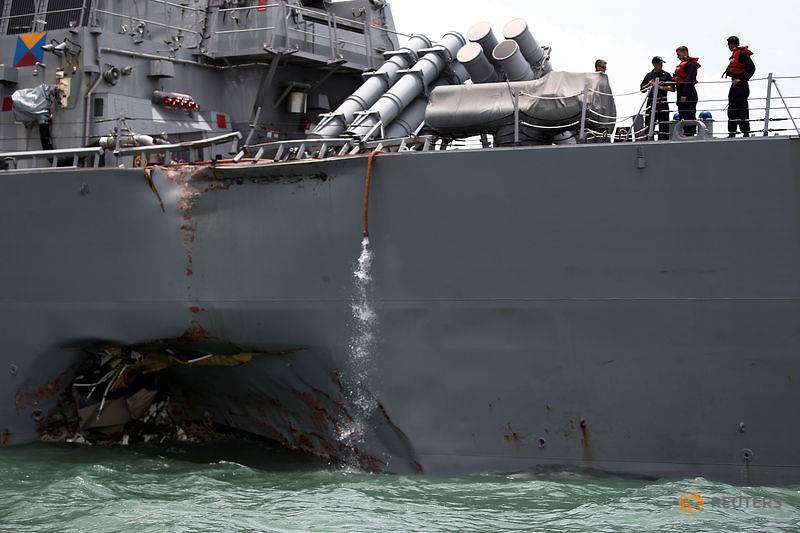 The August 2017 collision between the USS John S McCain and a commercial tanker was caused by insufficient training, inadequate bridge operating procedures and a lack of operational oversight, the National Transportation Safety Board said in a Marine Accident Report released on Tuesday. 
Ten sailors aboard the John S McCain died and another 48 were injured when the Arleigh Burke-class destroyer collided with the chemical tanker Alnic MC in the Middle Channel passage of the Singapore Strait Traffic Separation Scheme (TSS). There were no injuries sustained by the crew of the tanker.
The collision occurred as both the Yokosuka-homeported John S McCain and the Liberian-flagged Alnic MC were transiting towards Singapore in the westbound lane of the busy Singapore Strait TSS.
"The NTSB determined the probable cause of the collision was a lack of effective operational oversight of the destroyer by the U.S. Navy, which resulted in insufficient training and inadequate bridge operating procedures," the NTSB said in a press release. "Contributing to the accident were the John S McCain bridge team's loss of situation awareness and failure to follow loss of steering emergency procedures, including the requirement to inform nearby vessel traffic of their perceived loss of steering. Also contributing to the accident was the operation of the steering system in backup manual mode, which allowed for an unintentional, unilateral transfer of steering control," the release said. 
"As the John S McCain entered the Singapore Strait, steering and thrust were being controlled by a single watchstander – the helmsman – from the helm station. The commanding officer directed the lee helm station be manned as well and the crew took actions intended to transfer propeller thrust control from the helm to the lee helm station. The NTSB concluded that during the process of shifting thrust control, a John S McCain watchstander unintentionally transferred control of steering from the helm to the lee helm station which resulted in a perceived loss of steering by the John S. McCain's helmsman, however, steering control was available at all times in the accident sequence. The NTSB further concluded the unintentional transfer was possible because the system was being operated in backup manual mode, which removed a safeguard against inadvertent transfer of steering control," the report further stated. 
The NTSB report also concluded that the "inability to maintain course due to a perceived loss of steering, the mismatch of port and starboard throttles producing an unbalanced thrust, and a brief but significant port rudder input from after steering combined to bring the John S McCain into the path of the Alnic MC."