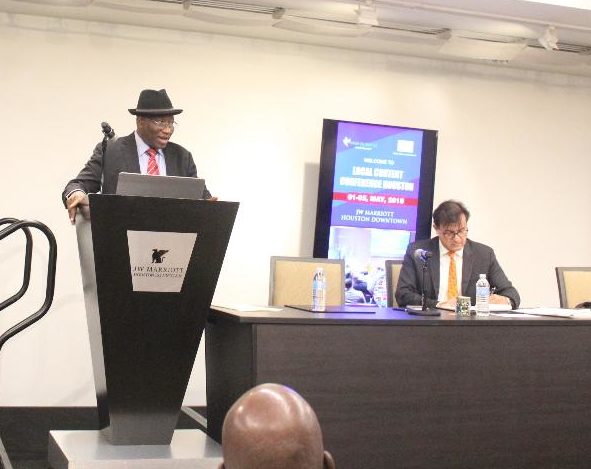 By The Nation
The value addition and percentage spending retained in Nigeria's upstream and downstream operations increased from less than five per cent to 32 per cent, former President Goodluck Jonathan has said.
He said at a conference in Houston, United States that despite some limitations, the gains from the implementation of the local content Act were visible in capacity building for upstream and downstream operations.
In his presentation entitled, "Local content as a driver for technological development", Jonathan said before the passage of the local content law, the industry projected a value addition profile, or percentage spending retained in Nigeria's oil and gas industry at less than five per cent.
He said the revenue, which came in form of taxes, royalties and rents has now been ramped up to about 32 per cent through engineering design, fabrication, manufacturing and procurement, royalties and rents.
Jonathan said there is also an appreciable progress in skills acquisition in the industry in line with the manpower development objectives of the Act, pointing out that the pre-local content Act picture of limited skill sets, which brought about the influx and dominance of expatriates into the industry, has been positively altered.
He said, "Through training and strict adherence to streamlined regulation, there are more qualified Nigerians working in the industry now than ever before. Thousands of Nigerians have been trained in technical areas, such as geosciences, oil spill management, underwater welding, pipe mill operation, engineering design and fabrication.
"Another positive development in this area is that Nigerians have developed the capacity to carry out most onshore upstream activities, just as many Nigerian companies involved in drilling activities, are competing favourably with industry leaders. More than 38 per cent of registered marine vessels currently belong to Nigerians, up from a time when indigenous operators could only boast of less than 10 per cent ownership of the operating vessels.
"There has also been a boost in the promotion of indigenous participation and the fostering of technological transfer as reflected in appreciable local growth in such technical areas as line-pipe mills, pipe coating, painting and cables manufacturing, as well as improved fabrication capacity. Only recently, one of Nigeria's indigenous oil servicing firms established a $100 million fabrication plant in the Niger Delta region.
"With this plant the local company intends to serve the fabrication and industrial needs of Nigeria and Africa, especially in the petroleum and power sectors."
Copyright Ships & Ports Ltd. Permission to use quotations from this article is granted subject to appropriate credit given to www.shipsandports.com.ng as the source.