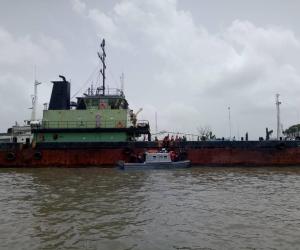 Operation Delta Safe, a joint military taskforce operating in the Niger Delta said it has impounded 24 ships allegedly engaged in the evacuation of illegal oil products in the region in 26 months.
Commander of the taskforce, Rear Admiral Apochi Suleiman, made the disclosure to reporters in Yenagoa on Tuesday.
He said the vessels were impounded as part of other seizures between June 24, 2016, and July 2018.
During the period under review, Suleiman said the taskforce destroyed a total of 1,819 illegal refineries, recovered 1,477 arms, 23,483 ammunition in 16,807 patrols conducted.
He said, "Also seized are 1,601 boats, 198 barges, 258 outboard engines, 133 tanker trucks, 349 vehicles, 95 generating sets and some 6,958 sundry items used in facilitating illegal refining activities.
"Besides, the force destroyed 6,027 storage tanks, 13,663 drums and 17,300 jerry cans during the period under review."
The JTF commander said the force achieved the feat with the use of swamp buggy equipment, capable of destroying oil distillation sites.
According to him, the special equipment crushes items used at the illegal refining camps and makes it difficult for the saboteurs to restart operations and it is environmentally friendly.