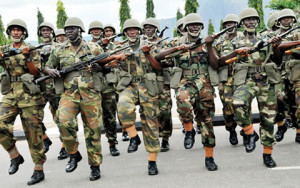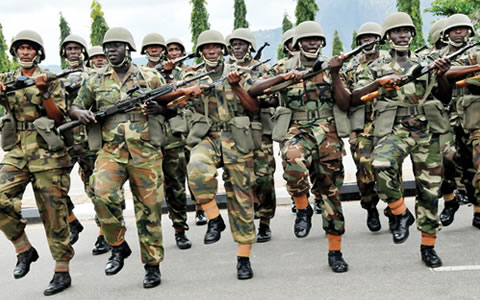 The Joint Task Force (JTF) comprising the Nigeria Navy, Air Force and Army, on Thursday, launched 'Operation Jagunlabi', to fight pipeline vandals around the creeks in Lagos.
The Flag Officer Commanding, Western Naval Command, Rear Adm. Slyvanus Abbah, who flagged off the operation in Majidun, Ikorodu, told journalists that it was aimed at combating the menace of pipeline vandalism and crude oil theft.
The operation, which is an offshoot of the ongoing Operation Awatse, is to further solidify the gains of the joint task force.
"Operation Awatse has been an ongoing operation, and if you are in Lagos, I think this is the most peaceful festive period you have ever had in Lagos.
"We have been working tirelessly. Before now, you know the criminals have been carrying out their nefarious act at the high sea; which is sea robbery," he said.
Abbah said that the components of Operation Awatse would partner Operation Delta Safe in the Niger Delta to tackle the influx of vandals and militants to Lagos waters from neighboring creeks.
He said that the partnership with Operation Delta Safe would see the military raid the creeks and backwaters of the Niger Delta region to arrest the rampaging militants.
"Although Lagos by itself is a peaceful place, the criminals come from elsewhere. For instance, the last attack that happened on Lagos waters, we have arrested so many of them and all of them are not from Lagos.
"The five of them that are in our custody are not from Lagos but have their accomplice in Lagos who gives them information. We are working on this to get rid of all those things," Abbah said.
He said the military was not resting on its oars in tackling the menace.
"This period, you know nobody came around to kidnap, and we have to commend the soldiers because they are working very hard to ensure everything is fine peacefully," he said.
On Operation Jagunlabi, Abbah said it was an ongoing and continuous exercise.
"Our presence here today is just to meet and interact with the soldiers.
"We want them to share their problems and we will also address them.
"Before now, you know Majidun was a no go area, but as you can see, everybody is feeling happy and operating freely.
"This is why we want to make all those non-penetrable areas to be safe now for everyone to carry out their businesses," he said.
Talking about the military's strategy, Abbah said that it would not be revealed, so that the enemies would not restrategise and strike.
"This is a military exercise and the essence of this is to make sure we operate peacefully.
"So, Operation Jagunlabi is a show of force to tell those boys (the militants) wherever they are, we are here for them.
"This is a joint operation and you cannot do it alone, so that is why we need air support from the Air Force.
"Therefore, it is a joint operation between the Army, Navy and Air Force and even elements of the Police, Department of State Security and the Nigeria Security and Civil Defence Corps," he said.
NAN also reports that the operation is also aimed at battling vandalism and crude oil theft in Lagos creeks and backwaters.
Abbah was joined by the Air Officer Commanding, Logistics Command, AVM Ibrahim Yahaya; the General Officer Commanding 81 Division, Maj.-Gen. Peter Dauke and the Commander, NNS Beecroft, Rear Adm. Maurice Eno.
The maritime operation kicked off from Majidun creek, with patrol of Ebute waterside, Ibeshe ferry jetty and then Oworonsoki jetty, before heading back to the base.
The ground forces also took off from Majidun and went through the Ikorodu garage roundabout, Ibeshe junction, Ibeshe Ilaje, Imota, Ishawo before returning to the naval outpost.
Abbah said that the joint patrol by the three arms of the military would pull resources and manpower together to tackle the menace.
Harping on the importance of intelligence gathering, Abbah who addressed the troops before the operation began, said they were to mix up with civilians in order to get information from them.   
Copyright Ships & Ports Ltd. Permission to use quotations from this article is granted subject to appropriate credit given to www.shipsandports.com.ng as the source.