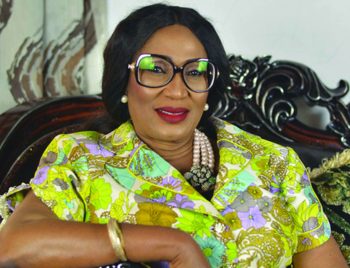 Ambassador (Dr) Mrs Kema Chikwe has made indelible marks as a top Nigerian politician, first female Minister of Transport and first female Minister of Aviation, during her service to the nation under the administration of former President Olusegun Obasanjo. Chikwe also served as Nigeria's Ambassador to the Republic Ireland under the administration of late President Umaru Yar'Adua.
In this exclusive interview with SHIPS & PORTS DAILY's correspondent, Oluwatoyin Amao, the former journalist turned politician, speaks on the challenges she encountered during her tenure in office.
You look radiant and fit at 70. What is the secret?
Well I give God the glory; I put myself through hard work by eating and exercising. I am happy you are saying so and thank you for the compliment.
As a former Minister of Transport, what will you consider as your legacies in the maritime sector?
The first thing that comes to my mind was the situation at the port which was chaotic, there was congestion and disorderliness everywhere. I think the legacy is that we tried to sanitize the port; when I first assumed office as the Minister of Transport the port especially Apapa and Tin Can ports were infested with wharf rats. I decided that I will flush out these wharf rats because they were all residing in the port, they were living in all sorts of shackles, containers and so on and I took them by surprise by doing my planning, by strategizing and so on and we moved in to destroy all their hideouts. I believe that day; we flushed out about 2,500 wharf rats in the port. The sanitization programme continued and there was a rumour that there are about 34 tables of bribery in the port and it was very disturbing. What I did was to have a committee of three people and they were very respectable people and I told them to clear goods which documents were given to them and pay at every table on demand and that was how I confirmed that there were 34 tables extorting money from people. This was a challenge and we started dismantling the tables and fortunately I had this lady, Mrs Ogboru, who took very keen interest in me and what I was doing. She was very supportive and she became my whistle blower by giving me information on any table that is planning to come back and anything that was wrong at the port gate. I didn't schedule to come to Lagos, I only came when I got information because I believe in micro-management when you are in authority because the problem with us in Nigeria is that if you are a minister, the office is not your place especially when you are overseeing a commercialize sector. The idea is that people and government must make money and you put that in your mind.  When I am looking at this human issues that bedevilled the operations in the port; congestion of clearing the vessels which was terrible and I remember I introduced 24 hour operation and before implementing it, there was need for electricity everywhere and I remember the first night that the light went on; my Managing Director was excited and there were three shifts so there could be operation for 24 hours and also we worked on documentation but most importantly, when I became Minister of Transport; all the agencies headquarters were in Abuja which I didn't think was right because the Nigerian Ports Authority (NPA) office at Marina overlooks the port, so the then Managing Director will see congestion or any problem in the port and if the Managing Director was in the Abuja, then it didn't make any sense. So I relocated the ten parastatals like Nigerian Shippers' Council and so on to Lagos. Of course for every action I had a lot of attacks but those attacks didn't matter. I did not just relocate them, I was coming myself to ensure they were settled and I also discovered that when the ministries moved to Abuja, so many redundant staff were left in Lagos and we had to sort that out because they were receiving salary and were not working. I also ensured that policy-wise, not every agency at the port should board vessels but everybody was going to see the captains. I knew there was corruption because everybody was talking about it and I had to identify it myself. I met with three ship captains alone and I asked my directors to wait for me at the office and I spoke with the captains. Ideally, a captain will want to come, discharge his ship and go back. Essentially, when I got report from them, then I knew I got a sense of satisfaction and direction and that was why I created the one stop shop for clearing. I felt there was no need to go outside the port, I asked for three banks to come into the port premises. The sanitization and the security of the port was very important before anything else and the clearing and forwarding processes were a major problem. The dockworkers union – because I didn't see why government should be paying members of a union, I never believed in it – but they had a very strong union and a strong leader at that time. The union was making a lot of money and we had to do everything humanly possible to stop that and that was why there were 'wars'. During my first week of assuming office, there was 'war' at Apapa port and I received a call from the Nigerian Ports Authority Managing Director saying everywhere was on fire. There were so many challenges I faced back then as minister. Also, the Nigerian National Shipping Line (NNSL) had a fleet of vessels which were all gone except one. As soon as I got into office, I was told the vessel was arrested and I didn't know the history of the vessel and this was the vessel that was sold for N500,000 and bought back for N500 million; some kind of scandalous price, which was a big challenge. But thank God that within a year, we were able to get somewhere. As the then Minister of Transport, it was a lot of field work and challenging but I enjoyed it because anything you are doing and you see that something is changing every day, you are satisfied.
What would you have liked to do differently for the transport sector?
As the Minister then, I took over from the military, you can't be independent because any action one took must go to the Federal Executive Council (FEC) and we needed approval especially if it had financial implication but I never had infrastructure funding at all and my budget did not include the building of infrastructures but we made recommendations. I was worried about clearing processes at the port. We had to resuscitate the railway line so that train could be used to evacuate cargo from the port. Again, the train had been there for a long time but had dilapidated. Dredging of the channels also caused a lot of challenges. The water was covered with weeds; even boats and small vessels could not move on it at all. Warri port and the Calabar port also had siltation problems and dredging could not take place because the more you dredged, the more the problem but I tried to do it through the private sector because I believe that if a company could build a deep ocean terminal, the vessels would pay to use it, but the issue became too political. Any sector that is commercialized is political because money is involved.
Well, I tried to do my work well despite the various challenges. I know I hurt people who had interests but in Nigeria I think we have to standardize and I always preached standardization because what is good for the goose is good for the gander. I was the Minister of Transport for only a year and later moved to Aviation. The President was talking about debt relief and attraction of foreign investments. And our airports were in a mess, so he called me and said he wanted me to move to Aviation as the Minister because the airport is the face of the nation.
You visited the ports regularly during your tenure. Are you happy with the present state of the ports, especially after port concession?
I am impressed because the madness that used to be at the port is no more; the crowd menace that used to be at the port has all gone. Every enterprise is protecting its own and that is what we advocated. There is really a lot of difference now because then, it was as if everyone who had no job in Lagos found his or her way to Apapa and Tin Can ports daily.
As the first female Aviation Minister, will you say our airports and the larger aviation sector is befitting of our country?
Judging from where we are coming from, it is not how big our airport is but the problem in the airport operation is that we have not been able to automate the entire system. I find it difficult to accept that you go to the airside and find people roaming about. I introduced the reflective jacket and I made it compulsory that for you to be at the airside, you must have the jacket on. We worked with the airline operators to implement it. We had it structured to the extent that from my house, I could get information on if people were using the jacket or not. Most people at the airside were unemployed people, which created tension at the airport. Travellers – especially those coming from outside Nigeria – complained that they were robbed. We tried to infuse a lot of things, which was not easy but now so many things have changed at the airport.
Before I was appointed, the Ikeja airport terminal had burnt down and they were going to build a new one. The design of the old one was brought to me but I told my staff that what Nigeria needed was a contemporary airport, and not an old design. This was done at the Murtala Mohammed Airport 2. I never got infrastructure budget at both the Ministry of Transport and Aviation. I used my own ingenuity to advertise for Build, Operate and Transfer (BOT) and that was how it was built.
I also took the certification of food served in each airline and other things around the airport seriously. We began to concession the trollies because when government owned them, people used the trollies anyhow by destroying them. There was no respect for government properties. We tried to change that orientation. One thing that worried me as the Minister of Aviation then was that when an airplane landed in Lagos, one would see herds of people who had no business at the airport all over the place. I had to meet with the Bola Tinubu who was the governor of Lagos State at the time, on this issue and he graciously gave me two magistrates. They created two courts for me at the airport. Anyone who was found wandering or roaming was arrested and prosecuted. I followed up very closely with the magistrates and nobody wanted to go to jail for tout offence. That was the magic that cleared the airport. There is a remarkable improvement because the Ministers that came after me were lucky. They had funding for infrastructure, which they borrowed from China and so on unlike during my tenure. I was not allowed to borrow and even when money was borrowed, we could not use it to implement our vision. But we were able to achieve a lot through BOT and through implementation of policy. The aviation policy that was articulated in my time is still in operation. We ensured mandatory servicing of aircrafts like auditing of airlines and their maintenance facilities because our policy was safety first.
How does it feel being the first female to be Minister of Transportation and Minister of Aviation?
Being the first female Minister of Transportation and later Minister of Aviation was too challenging for me. I cannot remember ever sleeping before 3am as a minister and two weeks after I left the position, I was very sick because of accumulated stress. It is not a glamourous job. If you are overseeing a commercialized sector, people want to make money and get safety and that is what transport and aviation is all about. I am a skillful manager. I applied the same management used at home to the sector. Also, I was chasing too many war fronts; the political and work war fronts. The most important thing I did was to prioritize everything. One thing I did not do was to listen to people who were unnecessary critics because they wanted something and they didn't get it. I didn't allow media attacks distract me. The most important thing was for me to succeed and I am happy I did.
Are you satisfied with the role and position of women in the transport industry?
I think they have come a long way as time goes on with education and exposure. They are really doing well and replacing men in the industry like the first female Managing Director of Nigerian Ports Authority (NPA). We also now have females as Port Managers and that is why I am interest in THE Women in Logistics and Transport (WILAT) association because I feel it is a motivating factor for women to work hard in the sector and I am happy with the way it is progressing.
What was your experience like as Nigeria's Ambassador to the Republic of Ireland?
Well, one thing I achieved was economic partnership programme and today I am happy that my programme accounts for many of the Irish nationals who are now doing business in Nigeria and Nigerians who are in Ireland.
Finally, what is your advice to professional women especially those in the transport sector?
We have to be very patience because a lot of women want to jump the gun. I always try to tell women to get good education, be mentored and be humble. I always advocate that women should join good societies to strategize and manoeuvre in men's world.
Copyright Ships & Ports Ltd. Permission to use quotations from this article is granted subject to appropriate credit given to www.shipsandports.com.ng as the source.