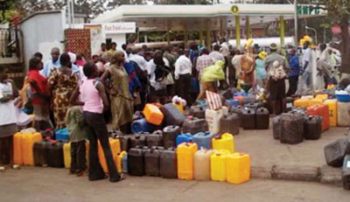 Some dealers of kerosene and customers in Bwari, FCT have decried the inadequate supply and high cost of the product in the area. They spoke in separate interviews with the News Agency of Nigeria (NAN) on Wednesday in Bwari.
Some the dealers and buyers lamented the scarcity of the commodity caused by inadequate supply by the Nigerian Union of Petroleum and Natural Gas Workers (NUPENG).
Other retailers told NAN that they had to seize the opportunity to increase their prices in order to make quick profit.
NAN correspondent in the area observed that kerosene was not available for sale in NIPCO, Conoil and Siraj Petrol stations, which are major dealers of the product.
There was also no kerosene at Tipper garage, Philip Ja Kude and Sajay Black market petrol stations, which are all located in Bwari.
Meanwhile, it was only available A. Y. Shafa located in Dutse-Makaranta in Bwari at the cost of N280 per litre and few retailers who sold it for between N450 and N500 per litre.
A dealer at the A.Y.M. Shafa Petrol Station, Dutse-Makaranta, Ahmed Shehu, told NAN that kerosene was sold at N280 per litre and it could be increased soon.
He said that increase in the price was due to inadequate supply of the commodity. He expressed displeasure over the attitude of some buyers at the station who often blamed them for the hike in price of the product.
Shehu said, "it is not our fault that we are selling at N280 per litre; we act in line with government policy directives. "When the product is not available, what do you expect? We most times travel farther than we should just to buy it in order to come and sell in the community," he said.
Faith Johnson, a customer at the station said that increase in the price of the commodity posed unbearable hardship on the living condition of her family.
According to her, "we always use kerosene for cooking because we cannot afford gas because this it has become difficult for us to cook more than once in a day.''
A consumer, Alhaji Mohammed Tanko, said that he only just got the product at the time of the interview, at N450 per litre.
He said that it was even more difficult to find location where kerosene was being sold in the area, "so there is no question of long queues''.
He therefore appealed to government to create an enabling environment in its price regulation to enable low income earners to buy the product at affordable price and ameliorate their sufferings.
A retailer,  Nkechi Eze, decried lack of uniformity in the selling price of the product at filling stations and high cost of transportation, which she said were the reasons for increase in the price.
According to her, although government announced N83 per litre earlier as its price, but failure to harmonise it has resulted to the astronomical increase in its price.
"If that is done, it will help give room for uniformity in price and then we can sell at a reduced cost rather the current price of N500 per litre.''
Samuel said, "We urge government to harmonise kerosene price to enable low income earners be able to buy the product and also meet challenges associated with high cost of living.
"Increase price of kerosene affects all aspects of the economy; we expect government to make the product price to be uniform to impact on the economic wellbeing of low income earners," he said.