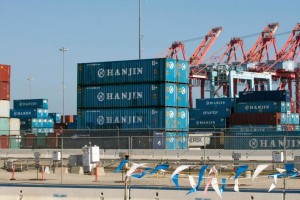 Global shipping companies have reduced their calls at South Korean ports despite adding more worldwide services, partly a result of Hanjin Shipping going bankrupt, a research organization said Friday.
Four different shipping alliances have been realigned into three major players — 2M, The Alliance and Ocean Alliance — in April after South Korea's Hanjin, once the world's seventh largest maritime transport company, went under the month before. CKYHE, the alliance that Hanjin had led, disappeared with it.
The three alliances together ply 74 routes, more than 64 by the previous four, but the number of calls to South Korea's southeastern ports of Busan last year actually fell from 31 to 28, and those to Gwangyang Port from five to two, according to the Korea Maritime Institute. Calls to Shanghai increased from 46 to 48, and for Hong Kong from 26 to 30. Qingdao received 21 calls, up from 19, and Tokyo nine, up from eight.
The institute said the main reason for the fall is the bankruptcy of Hanjin Shipping who used to handle cargo volume of 1.88 million TEUs (twenty-foot equivalent units) a year in and out of South Korea, plus 2.72 million TEUs of transshipment freight.
South Korea's transshipment volume last year fell 3 percent from 2015 and was expected to drop even more this year.
Industry watchers say conditions may worsen with no new entries to the alliances by South Korean companies. Hyundai Merchant Marine Co., another South Korean container carrier, narrowly averted bankruptcy in December last year. It has since struck a strategic cooperation with 2M for slot exchanges and purchases.
The diminishing port calls limit the available choices for South Korean shippers and may induce a hike in freight shipment and service fees, the institute said, with freight charges for exports already becoming more expensive than for Chinese ports.
About the only solution is to withstand difficulties until Hyundai Merchant and SM Line Corp., who purchased Hanjin Shipping's US-Asia route, to become strong enough to replace Hanjin, the institute said. 
Copyright Ships & Ports Ltd. Permission to use quotations from this article is granted subject to appropriate credit given to www.shipsandports.com.ng as the source.