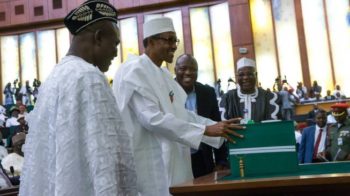 The Nigeria Labour Congress (NLC) has decried the delay in the passage of the 2018 Appropriation Bill by the National Assembly.
NLC General Secretary, Dr Peter Ozo-Eson, made this known said in an interview with journalists on Thursday in Abuja.
Ozo-Eson said the continuous delay in the passage of the 2018 budget was rather unfortunate.
According to him, it was unfortunate that the country was still talking about the passage of the budget. He said the execution of the 2018 budget ought to have begun on Jan. 1, 2018.
He said, "We are in April, already into the second quarter and the budget has yet to be passed. No one can say for sure when it will be passed.
"The budget is supposed to among other things, show the direction of the economic policies for the year, which will then influence the economic planning by economic agents, both in the private and the public sector.
"Because in the economy, people respond to the economy of the budget, so if by the beginning of the second quarter, we still have not had the budget passed, it means that they are having economic function without direction.
"This does not help the economic performance of the country; it is rather sad.
"Whosoever is responsible for the delay, should be called to order in the interest of the country and the budget needs to be passed."
The NLC scribe also urged the Federal Government to break away from the usual delay in the budget passage by instituting a sacrosanct budget circle.
Ozo-Eson said that if the budget circle was in place and the budget passed in the beginning of the period, it would be healthy for the economy.
He said that the budget circle in place would also encourage the growth of the economy and allow the people to plan economically ahead of time.
He, however, called on the Federal Government to ensure the quick passage of the budget to salvage the economic situation in the country.   
Copyright Ships & Ports Ltd. Permission to use quotations from this article is granted subject to appropriate credit given to www.shipsandports.com.ng as the source.