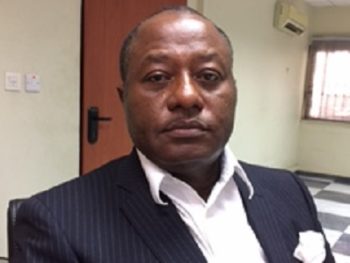 President, Nigerian Chamber of Shipping (NCS) Andy Isichei has said that lack of implementation of key policies to drive the sector is one of the major problems of the maritime industry.
Isichei who stated this on Thursday during the investiture ceremony and inauguration of the governing council of the NCS promised that the Chamber will work closely with heads of maritime agencies and critical stakeholders within and outside the industry to address one of the challenges which he identified as lack of sea time training for seafarers.
He said the Cabotage Act was created as a major tool not only to improve the maritime industry but a major employment generating opportunity but due to lack of implementation, the country could not enjoy its full benefits.
He noted that the huge amount spent by NIMASA to train seafarers outside the country can be channeled to other uses as the country presently does not have vessels to accommodate seafarers on the mandatory one year sea time training after graduation.
While promising that the NCS will serve to move the industry forward, Isichei said the chamber was in talks with some institution overseas to collaborate with it to address some of the identified challenges in the sector.
"We will do our best to deal with the challenge our seafarers have with sea time experience. We will work with stakeholders within Nigeria and outside to make this happen. We will collaborate and engage government agencies like NIMASA, NPA to stem the tide of retrogression in on-board sea time aspect of cadet training which has resulted in dearth of jobs for our seafarers.
"NIMASA has trained 2,400 seafarers abroad but majority of these young men are at home because they do not have sea time experience. Remittances alone would boost their economy. So we need to deal with that. We will do our best to tackle that.
"Most in-country freight business is presently being handled majorly by foreign-owned vessels. In fact, out of the 90 tank farms we have in the country, over 80 percent are owned by foreigners but if government puts its foot down to say that if the foreign companies must do business in Nigeria, they must engage our seafarers, then we would be getting some of these things right," he said.
Former Managing Director of Nigerian Ports Authority and immediate past president of the chamber, Chief Adebayo Sarumi charged the new NCS President to champion the course of practitioners in the industry.
He also commended the pioneering effort of the NCS founder, Olisa Agbakoba which he said has helped grow the chamber as a voice to be reckoned with in the industry.
Chairman Seaport Terminal Operators Association of Nigeria (STOAN), Princess Vicky Haastrup; former President, Nigerian Bar Association, Olisa Agbakoba; Managing Director, Nigerian Port Authority, Hadiza Bala and Executive Secretary, Nigerian Shippers Council, Mr. Hassan Bello, were among stakeholders that witnessed the event.