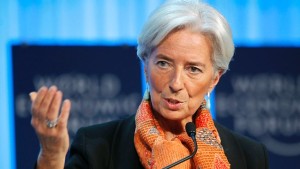 The executive board of the International Monetary Fund (IMF) says Christine Lagarde must continue with her "outstanding leadership", despite being convicted by a French court on Monday.
Lagarde was convicted of negligence in the misuse of public funds, but after the IMF board reviewed her situation, it expressed its "full confidence" in her work.
"The Executive Board met today to consider recent developments in the legal proceedings in France involving Managing Director Christine Lagarde," the board said in a mailed statement.
"The Executive Board took all relevant factors into account in its discussions, including the Managing Director's outstanding leadership of the Fund and the wide respect and trust for her leadership globally.
"In this context, the Executive Board reaffirms its full confidence in the Managing Director's ability to continue to effectively carry out her duties."
It added: "Under the Fund's governance framework, the Managing Director is appointed by the Executive Board and performs her duties under the Board's direction.
"In the exercise of its oversight responsibilities, the Executive Board has met regularly, since the Managing Director's appointment in 2011, to consider whether developments in the legal proceedings in France relating to the Managing Director have affected her ability to lead the Fund.
"The Executive Board looks forward to continuing to work with the Managing Director to address the difficult challenges facing the global economy."   
Copyright Ships & Ports Ltd. Permission to use quotations from this article is granted subject to appropriate credit given to www.shipsandports.com.ng as the source.