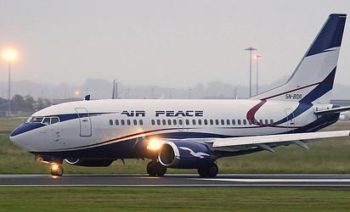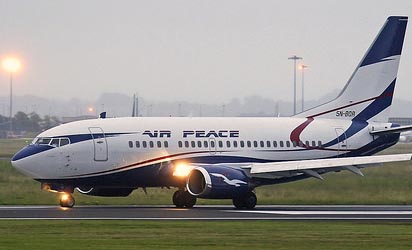 Less than 48 hours after an Aero Contractor aircraft was engulfed in smoke while trying to land at the Murtala Muhammed Airport in Lagos, another accident occurred at the airport on Thursday when two aircraft belonging to Air Peace collided while trying to manoeuvre their way around the tarmac of the local terminal.
The Air Peace spokesperson, Chris Iwarah, told journalists that the collision occurred around 6.15 a.m. when its B737 aircraft with registration number 5N-BQR had "partial contact" with another B737 aircraft with registration number 5N-BQP.
"Although the points of contact of the two aircraft were only slightly impacted, we took the cautious decision to declare them unserviceable to enable proper investigation of the incident, checks and repair by our Engineering and Maintenance Department in line with our high safety standards,"  Iwarah said.
"There were no passengers on the two aircraft involved in the incident. We have also revised our flight schedule to cater to our esteemed guests on the 14 sectors the two aircraft were scheduled to service today.
The spokesperson of the Nigerian Civil Aviation Authority (NCAA), Sam Adurogboye, denied that the incident was a collision. He said the wings of both aircraft merely grazed each other.
"What happened was that one aircraft was packed. The other aircraft was trying to taxi and the wings of the one coming in touched the wings of the one on ground," he said.
"If two airplanes collide, they will be on fire. But the two aircraft were both on ground and they have to repair the damage and we have to check them all over again before they can be cleared to return to service," he told said.
When asked if Nigerians should be concerned about safety efforts put in place following Thursday's incident,  Adurogboye dismissed the concern.
He said accidents happen everywhere in the world and that Nigeria is not an exception.
"When you use a machine, assuming you drive a car, even the one you packed in the house, when you want to use it there will be an issue with it. Every machine you are using there are bound to be issues. The same thing applies to aircraft.
"There is nowhere in the world there are no issues. It is only in Nigerian that we report incidences. There are incidences all over the world. Aircraft drop off in the U.S. every week. So, to say because of three incidents, it should call for concern. We have 500 landings in MMA alone."
Thursday's incident is similar to an incident in July 2015 when two Airbus 310 aircraft belonging to FirstNation brushed each other's wings at the airport.