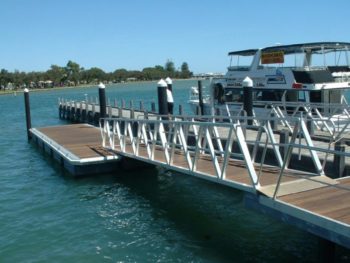 The Lagos State Government is to construct eight new concrete ferry jetties in coastal areas of the state, according to an official.
The Commissioner for Waterfront Development, Adebowale Akinsanya, said at a media briefing on Monday at Alausa, Ikeja, that the new jetties would boost water transportation in the state.
"This will be the first state-owned ferry concrete jetties and we will ensure that they are of globally acceptable standard to ensure safety.
"The jetties have been operating on public-private partnership and as a government, we want to set the pace for other investors who might be coming on board," he said.
The briefing is part of activities marking the two years of Gov. Akinwunmi Ambode's administration.
Akinsanya gave the locations as Ilase in Ojo, Ito-Omu waterfront in Epe, Ilado in Amuwo-Odofin, Ofin waterfront in Igbogbo, Baiyeku waterfront in Igbogbo, VIP Chalet, Apa waterfront and Isalu-Iya Afin in Badagry.
The commissioner said the ministry had also started reclaiming of about 29.8 hectares at Oworonshoki foreshore where infrastructure would be provided that would serve as a major transportation hub for water and bus services.
He listed some of the ministry's achievements as tackling the Atlantic Ocean surge between Goshen Estate and Alpha Beach with 6.8km stretch of the shoreline out of a total length of 7.3 km adequately protected.
According to him, property owners on this stretch can now heave a sigh of relief that their investments had been protected against the surge.
"We are also currently evaluating additional protection of some waterfront schemes. The Lekki Foreshore, Badagry-Marina and Epe-Marina shoreline protection will commence soon'', he said.
On the challenges facing the ministry, Akinsanya said the ministry was constrained in regulating dredging activities in the state because of a Federal High Court judgment of February 2014.
"The judgment transferred all dredging responsibilities to the National Inland Waterways Authority (NIWA).
"Hearing of the appeal filed by the state government has been deferred to a later date this year and this is also a challenge.
"There has been an increase in degradation of the fragile shoreline and the environment due to legal challenge from NIWA.
"Consequent, this has resulted in the inability of the ministry to fully enforce and prosecute erring operators on dredging rules, health safety and environmental rules contraventions, " he said.   
Copyright Ships & Ports Ltd. Permission to use quotations from this article is granted subject to appropriate credit given to www.shipsandports.com.ng as the source.