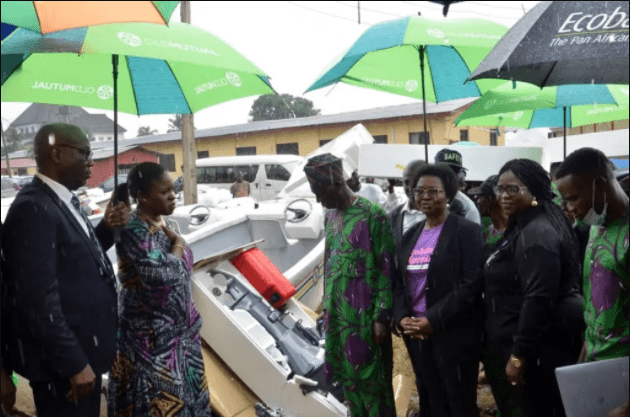 Lagos State Government, in collaboration with Ecobank Nigeria has given 34 fibreglass boats to cooperative societies of 680 young fishermen.
The boats come with outboard engines and other ancillary fishing equipment.
The Commissioner for Agriculture, Abisola Olusanya, who made the presentation, commended Ecobank on the partnership to uplift artisanal fisheries value chain in the state.
She said the ministry was partnering with Ecobank and Old Mutual Assurance, to provide banking services, track cash flow in the business and aid fleet expansion for the fishermen.
She disclosed that the empowerment was under the 2021 Agricultural Value Chains Enterprise Activation Programme inaugurated by Governor Babajide Sanwo-Olu in July as part of the government's commitment to supporting the fishery value chain. 
The commissioner said that it was envisaged that the deployment of the fishing assets would create over 2,000 jobs in the upstream and downstream sub-sectors of the artisanal fisheries value chain, as well as to produce 4,531 metric tonnes of fish annually.
Olusanya said that each cooperative group comprising 20 members each would receive a boat.
She further explained that the partnership with Ecobank was aimed at monitoring the activities of each cooperative group to ensure that they make judicious use of the equipment. 
"Today, we are distributing the fibreglass boat to 34 cooperative groups free of charge, under the 2021 Agricultural Value Chains Enterprise Activation Programme.
"We need to monitor your activities to ensure that you utilise the equipment very well and also expand and increase the number of your fleet with the support of the financial institution.
"The banks are here to plan your business and increase opportunities for the generations to come. We want you all to grow your business and become multinational companies.
"We don't want people to come from Japan, Netherlands and other foreign countries to talk about fish more than our people from the local fishing communities," she said.