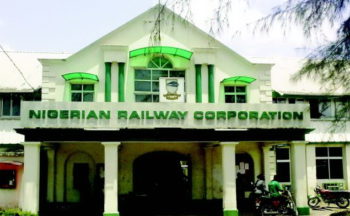 Residents of Agbado Railway Station Community in Ogun State have appealed to the Nigeria Railway Corporation (NRC) to compensate members of the community whose houses are affected by the ongoing demolition.
The demolition of houses along the rail route is to pave way for the construction of the Lagos-Ibadan Standard Gauge rail.
The Aro of Agbado Land, Chief Sunday Olaitan, on Friday appealed to the government to compensate those whose houses were affected by the demolition.
"We appeal to NRC to compensate our people because we were not carried along by the corporation.
"We only saw them marking the houses last week; we expected them to communicate with us officially before this time.
"We just saw them demolishing houses; if not that Kabiyesi (the monarch) came out, they would have even demolished his palace fence.
"We want government to help us sand fill the only alternative we have because it is water logged; at least, so that the market woman can have a place to sell their wares," he said.
The Chairman, Olorunsogo Community Development Association, Itoki area, Micheal Olusunmade, also appealed to the government to give adequate compensation to the affected members of the community.
Olasunmade said the majority of residents and Landlords were retirees, who built the houses with pension and gratuity.
"We appeal to government to help us with other alternatives or compensation.
"Some of the landlords here are hypertensive; so to prevent cases of stroke and sudden deaths, government should come to our aid with alternatives,'' he pleaded.
Deolu Alake, a resident of Itoki, said that the news of the demolitions was a great shock to him.
Alake appealed to the government to compensate the landlords whose houses were demolished in the process of constructing the new standard gauge rail.
"Some of us do not have alternatives because the cost of building materials now is so expensive that nobody can confidently boast of building another house somewhere else,'' he said.
The NRC had announced that construction of the Lagos-Ibadan standard gauge rail would begin on Friday, April 14.
The Managing Director, NRC, Fidet Okhiria, had advised those who encroached on the NRC land to start packing their belongings, to save them from being destroyed by caterpillars.
Okhiria said that those who were due for compensation would be compensated, as the process was part of the contract.
"Those who encroached on the land have to vacate their premises as soon as possible because the construction work was scheduled to begin on April 14.
"We intentionally did not give permits to so many people because we knew that one day, the land will be required.
"So, we have already mapped out those places we need to remove and they are aware; we have told them to remove their valuables before the caterpillars start work,'' he said.
The MD said that the project, when completed, would attract more social and economic development to the communities and major towns along the axis.