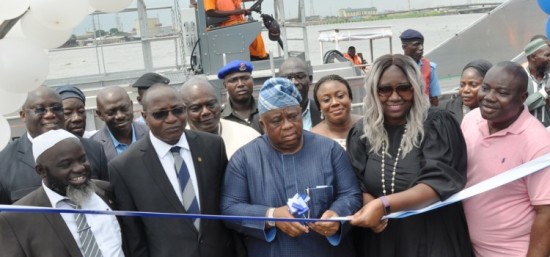 The Lagos State Government has procured two modern equipment to tackle the menace of water hyacinth from the state's waterways.
Governor Akinwunmi Ambode unveiled the two water hyacinth removal machines on Thursday at the Ebute-Ero Jetty in Lagos.
The machines were procured by the governor for the Lagos State Waterways Authority (LASWA) to remove water hyacinth which had posed threats to safety on waterways for decades.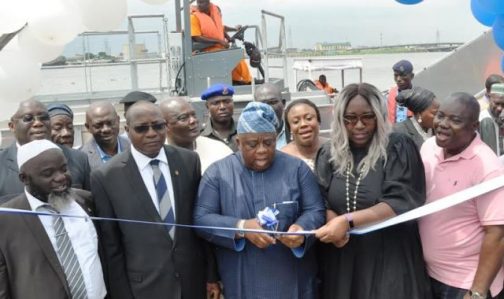 The governor, who was represented by the Commissioner for the Environment, Dr. Samuel Adejare lamented the threats posed by water hyacinths to water bodies in the state, saying that for too long, water hyacinth had constituted a menace to water safety in Lagos.
He said the machines would help to clear the waterways off water hyacinth and other debris being dumped into the Lagoon by Lagosians.
"These machines will make our waterways clean. Before now LAWMA has always been getting contractors to get rid of dirts from the waterways, but we are stopping it now. The machines will help to clean the waterways now," he said.
Managing Director of LASWA, Engr. Abisola Kamson said the idea that gave birth to the procurement of the equipment started as part of the state's several efforts to promote and improve the mode of water transportation and to provide safe navigation to waterways users within the state.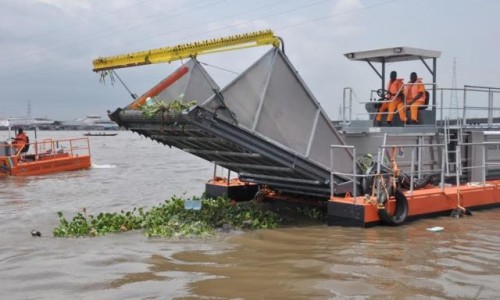 She stated that water hyacinth had become seasonal threat and a menace to the marine ecosystems of Lagos, particularly the Ikorodu, Ajah, Badagry, Lagos Island, Oworonshoki, Mile 2 and Epe axis.
"They cause mechanical problems to the propulsion system of boats, thus affecting water transportation activities and also affecting the socio-economic activities of fishermen and the inhabitants of the riverine communities negatively.
"It is a dream come true, especially as we see the 'miracle technology' as this water hyacinth and debris removal machines devour not only the water hyacinths, but also all other waste debris on our waterways.
"The machines act like an underwater lawn mower, it cuts the vegetation, collecting and storing the weeds and debris on board. They are fitted with a pick up conveyor at the forward end of the machine, which can be lowered up to six feet deep into the water for effective cleaning of our waterways," she explained.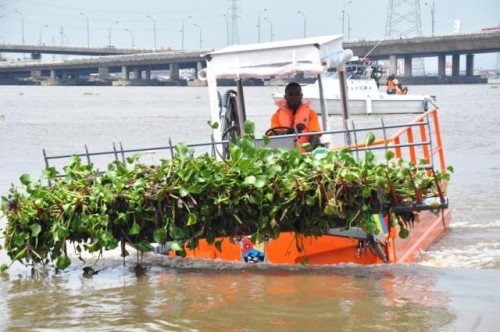 Kamson pledged that LASWA would not allow the huge investment made by government to be under-utilised and that the authority was committed to deploying these machines for effective use with the immediate clean-up of our waterways. To all operators and users of the waterways, it is surely a new dawn.
Chairman, Lagos State Chapter of Association of Tourism Boat Water Operators, Chief Wellington Ilori-Akingbulu commended Ambode and his team for the initiative, saying the machines would go a long way in removing the incessant accidents and engine problems caused by water hyacinth and debris.
Copyright Ships & Ports Ltd. Permission to use quotations from this article is granted subject to appropriate credit given to www.shipsandports.com.ng as the source.