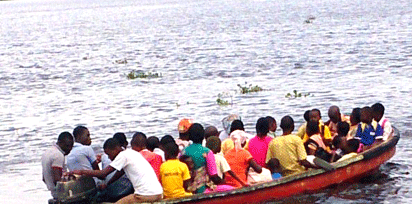 By Patience Danjuma 
The General Manager, Lagos Zone of the National Inland Waterways Authority (NIWA), Muazu Sambo, has described the Lagos State Waterways Authority (LASWA) as an illegal entity. 
Speaking on the last day of the 3-day investigative hearing organised by the House of Representatives Committee on Ports, Harbours and Waterways at the National Assembly, Abuja last Wednesday, Sambo accused the Lagos State Government of overstepping its bounds by creating LASWA.
Muazu, who spoke to the chagrin of Lagos government officials, including the Managing Director of LASWA, Damilola Emmanuel, who were also present at the investigative hearing, said, "LASWA is an illegal creation. It is not recognised by the laws of this country because LASWA is a creation of the Lagos House of Assembly, which purported to repeal the NIWA Act. The question is, can a State House of Assembly repeal a federal legislation?" 
Sambo also took a swipe at the Lagos State Government over control of the waterways. He said all navigable waterways, inland waterways, river ports and internal waters of Nigeria, excluding all direct approaches to the ports listed in the Third Schedule to the NIWA Act and all other waters declared to be approaches to ports under or pursuant to the Nigerian Ports Authority Act, up to 250 metres beyond the upstream edge of the quay of such ports, are under the exclusive management, direction and control of NIWA.
Sambo said a subsisting Court of Appeal decision in G. M Enterprises Limited vs C.R. Investment Ltd held that NIWA has been conferred with far reaching power and right to control, develop, manage and use all the lands, navigable waterways, inland waterways and river ports throughout Nigeria. 
According to him, the Appeal Court decision reinforces the position that only the federal government can regulate inland waterways, shipping, navigation and dredging activities within the Nigerian inland waterways and its right-of-ways. 
Earlier in their contribution at the hearing, the Lagos State Government officials led by the Permanent Secretary, Lands Bureau of Lagos State, Bode Agoro, had argued against the powers of NIWA to control the right-of-ways 100 metres from the river bank as enshrined in the NIWA Act. 
The Lagos officials said such powers exercised by NIWA had been overtaken by the Land Use Act, which has vested control all land in the state on the state governor. 
Chairman of the House Committee on Ports, Harbours and Waterways, Patrick Asadu, who presided over the investigative hearing, said there would be need for future meeting to further deliberate on the feud between both parties over control of the waterways as the matter required serious attention of the federal lawmakers.  
Copyright Ships & Ports Ltd. Permission to use quotations from this article is granted subject to appropriate credit given to www.shipsandports.com.ng as the source.