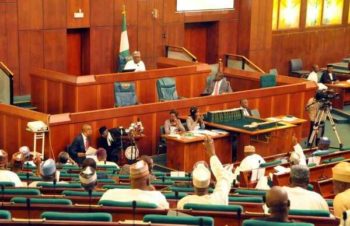 The House of Representatives ad-hoc Committee on Review of Pump Price of Petrol on Friday directed the Nigerian Ports Authority (NPA) and the Nigerian Maritime Administration and Safety Agency (NIMASA) to clarify their charges in dollars.
Chairman of the Committee, Raphael Igbokwe, gave the directive during the committee's visit to NPA and NIMASA headquarters in Lagos.
Igbokwe said representatives of both organisations should be present at the executive briefing in Abuja for clarification.
He said operators of wet cargo had complained that inability to access dollars led to deals which had multiple effects on petroleum products.
According to him, there is need to justify why NPA and NIMASA charged most of their levies in dollars.
The lawmaker listed NPA dollar charges to include lease and vessel fees, cargo and shipping dues, provisional bill, concession fees and payment for pilotage and royalties while NIMASA also collects three per cent freight benchmark in dollars.
Igbokwe also said that among the challenges faced by the shipping companies was that Nigerian waters were not deep enough to accommodate large vessels.
He said the inability of NPA to create room for mother vessels to berth petroleum products had lead to midstream discharge, illegal bunkering and malpractices which gave room for some operators to be shortchange government.
He said if bigger vessels containing petroleum products berth at the ports, it would stop operators of ship-to-ship discharge; and not discharging accurate quantity to the supplier or marketers in the supply chain.
"We are looking at NIMASA and NPA to reconcile some charges they made in dollars; to stop the increase in price of dollars as well as offshore discharge.
Managing Director of NPA, Hadiza Usman, said that the authority was working hard to tackle finance and technical charges affecting the operations of petroleum products.
The Executive Director, Marine and Operations of NPA, Davis Sekonte, said there was a directive by the Federal Government through the Minister of Transportation to grant 50 per cent rebate on petroleum products cargo since 2009.
Sekonte said the rebate was revived in 2016 when the Federal Government removed subsidy from petroleum products.
He said that NPA subsidised the charges to the tune of N3.5 billion between 2009 to 2016.
Sekonte also said that dredging is responsible for almost 70 per cent of NPA's expenditure.
"NPA is partnering with international companies such as the Lagos Channel Management, Bonny Channel Company and Calabar Channel Management.
"The dredging company provides technology while NPA provides money to carry out the dredging operations on Nigerian ports.
"There is a limitation on dredging the Nigerian ports which could only accommodate 13 metres to avoid environmental hazards.
"The establishment of deep seaports would enable mother vessels to berth at the ports," he said.
Copyright Ships & Ports Ltd. Permission to use quotations from this article is granted subject to appropriate credit given to www.shipsandports.com.ng as the source.