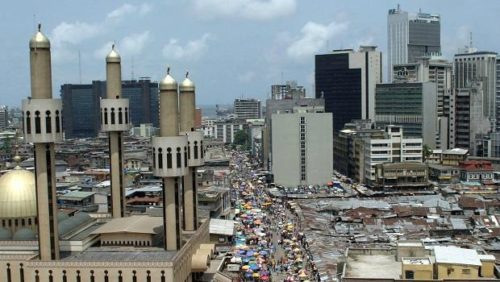 On Friday, December 14, 2018, President MuhammaduBuhari had an uncommon meeting with governors of the 36 states of the federation. According to the chairman of the Nigeria Governors Forum (NGF), AbdulazizYari of Zamfara State, who spoke with State House correspondents after the meeting, the president said; "the economy is in bad shape and that we have to come together, think and rethink on the way forward." Think?
I would have applauded this prescription for economic improvement, if not that I am painfully aware that most of our leaders do not present themselves as disciplined thinkers poised to provide solutions to socioeconomic woes.  For many of them, "to think" equates to "keep in view". It is not a clarion call to do the needful. Our leaders are not thinking frontiersmen like Bill Gates, Jeff Bezos, Tim Cook etc. They do not practice the core principles espoused in Gates' book, Business @ The Speed of Thought.  Hence, this prescription appears like a fire brigade approach to crisis management. It does not show that forethoughtfulness is a vital element of the leadership style of most of our elected leaders.
Great economies are built on visions, forward-looking and comprehensive action plans. Sapient national architects and builders shun short-gaps.  As long as holistic visions are missing element in our quest for sustainable development, we will keep succumbing to the alluring baits of ad hocism. "Thinking", making decisions or implementing measures merely in response to a particular problem, without considering broader and longer-term issues is a sure way to lead a nation into trouble. Short termism has emasculated the soul of our nation. Like corruption it is a hostile enemy of Nigeria's progress. This rash and unthoughtful resort to harness our think capital cannot procure long-term solutions.
Expectedly, the timing of the presidential disclosure about the looming economic doom has elicited the reactions of many pundits. Senator Shehu Sani considers the President's comment as a manifestation of history-making courage, and honesty. He made his position known on his Twitter handle: "Prez Buhari admitting that the economy he manages is in bad shape is an act of honesty and courage to tell the truth. Many will lie for votes. I don't know of any President in history or anywhere around the world who will make this kind of statement 2 months to general elections."
However, the Presidential Candidate of the People's Democratic Party (PDP), Alhaji Atiku Abubakar, holds a different view. He considers the statement credited to President Buhari as masked hypocrisy. Alhaji Atiku made his thought known through a statement issued by his Special Assistant on Public Communication, Phrank Shaibu. According to him, "Nigerian economy has collapsed under his watch is not only a pathetic ploy to attract the sympathy of Nigerians with his false honesty but also, a disguise to get a soft landing from the people he has put under terrible suffering and hardship in the last three and half years."
Furthermore, he noted that; "The result, of course, is this late hour confession of failure on the eve of our general elections, in the hope that millions of Nigerians, whom he has condemned to poverty and hardship, will give him a clap for failing abysmally. I dare say that President Buhari has miscalculated badly on this matter because Nigerians are simply fed up with him."
Moralizing about the presidential comment is somewhat red herring.  Being a mark of honesty or false honesty does not imbue the "strategy" of handling the looming chaos with utilitarian or pragmatic values. In fact, its informational value is very low, particularly, because, the President publicly told lawmakers at the National Assembly that the economy is on the path of progress. Let us accept it the way Governor AbdulazizYari stated it. It was intended to make them think, and perhaps, us. But is government poised to use our collective think capital?
If yes, then government has not realized that, it is hard to organize impoverished people who cannot buy bread to think of how to make a bakery fireproof.  Or were they thinking the public had a need to know; to forewarn Nigerians to prepare for futuristic nightmares? Were they tacitly telling us to go and watch some post-apocalyptic films, and learn how to survive, if plunged to a world of doom and gloom?
Well, if that is the case, it is possible to argue that majority of Nigerians do not need preparation to deal with austerity. It is their lived reality. What is the place of the average Nigerian on the dinner table? Is he or she a participator or a spectator? Let me admit, these questions are a recast of the question posed by an influential Kenyan lawyer, academic, staunch Pan-Africanist, and one-time Director of Kenya Anti-Corruption Commission, Prof. Patrict Loch Otieno Lumumba. In a video that went viral online, Prof. Lumumba at a panel presentation at the Rwanda National Security Symposium held on May 14, 2018, noted that, "Africa is on dinner table eaten by superpowers."
Is it right to say, the average Nigerian is on the metaphoric dinner table to be eaten by predatory political elite? I do not know. However, I can say that during seasons of high economic trade and prosperity, the average Nigerian is not on the dinner table. He or she does not have access to the morsels that fall from the dinner table.
If the warning signal was designed to forewarn and forearm the citizenry, it would have adopted the Joseph's approach. Remember, Joseph did not merely speak about the coming bloom and doom. He had an action plan. He spoke about what Egypt must do in the years of fat cows. So, they can have more than enough in the years of lean cows. I think that is the essence of crisis communication: damage mitigation, empowering people to act wisely.
To avoid or mitigate the harmful effects of the looming downturn, we must identify its root causes. Insecurity and corruption are two key reasons why Nigeria's economy is teetering around the threshold of decline. State governors get huge security votes, which fuel corruption.  To show they do not want to lead us into trouble, the 36 governors would have ended this iniquitous regime of security votes at that meeting. Then plan to deploy the monies to meaningful social investment interventions. It will take meaningful social investments to abate widespread feelings of social alienation, security threats, youth restiveness, high unemployment rate, and soaring violent crime rates.
To sidestep negative economic growth, government and monetary authorities should increase aggregate demand, that is, consumer spending, investment, exports. It is a known fact that high-interest rates are bad for businesses. Therefore, to avoid the looming recession, it is imperative to cut interest rates, and increase funding opportunities for enterprising innovators.  If there is a reduction in cost of borrowing, it would encourage investments, which will consequently create jobs. Job creation is a valid index of a growing economy. Also, government should endeavor to ensure financial stability.
Amazingly, two out of the ten fastest growing economies in the world in 2019 are African nations, Ethiopia and Rwanda. Ethiopia's growth rate is projected to be 7.3% and Rwanda's 7.3%. These nations are post-conflict economies. This should renew our hopes. Nigeria can grow despite security challenges. That is, if our leaders will make genuine efforts to think. Think beyond the next election. Think about transforming Nigeria's monolithic economy. Think about fostering a more cohesive Nigeria where tribe, religion and nepotism are not principles of power and resource management.
If it is not the intention of the political class to lead us into trouble, they should make the distinction between politics and governance less mucky. When governance is regrettably subservient to politics, public confidence in their leadership capacity to manage the economy will be low, and this on its own could stimulate a credit crunch. Political officeholders should not be so preoccupied with how to win votes and fail to creatively tackle the challenges of building a strong economy.