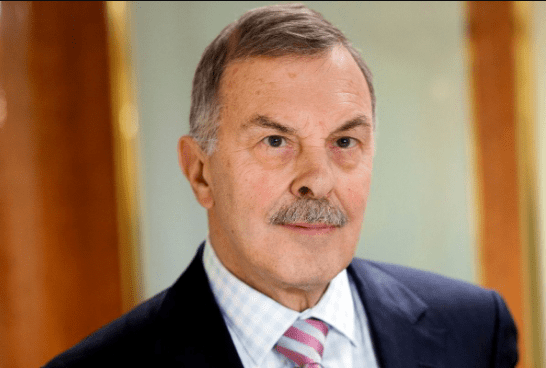 The shipping industry is mourning John Angelicoussis, Greece's largest shipowner, who died in Athens on Saturday at the age of 72.
One of the world's largest private shipowners, he had been in critical condition at the Henry Dunant Hospital Center after suffering a heart attack and collapsing in his home on March 20. It is understood he did not regain consciousness, while his condition was described as critical.
His only child, Maria Angelicoussi, 39, who succeeds her father as the CEO of the Angelicoussis Group confirmed the news "with great sadness and regret" in a statement on Saturday afternoon.
She said he died peacefully in his sleep, surrounded by close family.
"He will be deeply missed," she said. "The family wish to thank all those at the hospital who provided support and care throughout."
Born in November 1948 in London and from the Aegean island of Chios, home of many Greek shipping personalities, Angelicoussis took the helm of the group from his father Anthony, a former radio officer, who in 1968 co-founded Agelef Shipping Company, only to go independent in 1971 and establish Anangel Shipping Enterprises.
John joined Anangel in 1973 and in 1987 the company became the first Greek shipowner to undertake a public flotation as Anangel American Shipholding, but John delisted from the Nasdaq in 2001 and has been an advocate of privately-held shipowning believing in working commercially with major market players.
He expanded the business into tankers in the 1990s and into LNG carriers in 2003. Today, the fleet is managed under three separate entities – Maran Dry, Maran Tankers and Maran Gas Maritime – and employs about 300 shoreside personnel as well as over 3,700 officers and crew.
Including newbuildings on order, the group owns 151 ships across three sectors of operation – dry bulk, tankers and liquefied natural gas carriers – of over 28million deadweight and is by some way Greece's largest group and is among the largest purely private shipping companies in the world.
He was a major backer of the Greek flag with but a handful of the company's vessels flying the home flag. He was also a great advocate for maritime education, providing the company's modern premises and auditorium to the industry for maritime seminars and discussions.
"We lost a man of our own, a dear friend, a peer," said Theodore Veniamis, President of the Union of Greek Shipowners. "John  Angelicousis was a worthy follower of the traditions of the Greek maritime family, and he grew up in an intense international competitive environment, always holding high the flag of his homeland and embracing Greek sailors and Greek seamanship," said Veniamis.
Though relatively shy, Angelicoussis was widely acknowledged as one of the most successful Greeks of his generation, earning a reputation for closely watched market moves.
As Veniamis said in his tribute: "He was distinguished internationally for his successful business choices and achievements. John will remain forever in our memory a bright beacon of a shipping that relies on man and creates for Man!
"The entire Greek shipping family, mourns today the loss of one of its most brilliant representatives."
The International Chamber of Shipping (ICS) also paid tribute to Angelicoussis. "Mr Angelicoussis was without doubt a giant, not only of Greek shipping, but of the global industry as well. Often referred to as a titan, it is difficult to overstate his endless achievements, and indeed the enormous esteem and respect in which he was held in his beloved homeland, and internationally, " said Esben Poulsson chairman of ICS..
"A bold visionary, he created an iconic group of companies synonymous with quality and operational excellence. He devoted a lifetime to the industry he so passionately embraced, and on which he will leave such an enduring impression."
Daughter Maria had been already been anointed to succeed him and was taking an active role in the company for some time. After giving up a medical career in the UK, she joined the company in 2008 and in recent years assumed a prominent co-leading role in the company under her father's blessing and guidance. Indeed, company's current management is of her own picking.
The funeral in Athens was attended by just a limited number of "close family members", in line with coronavirus restrictions in Greece and the family asked that Instead of flowers or wreathes, donations be made to a state hospital in the working-class suburb of Nikea near Piraeus, "an institution supported by John and close to his heart".
Angelicoussis left behind his wife Elizabeth, his daughter Maria and three grandchildren.