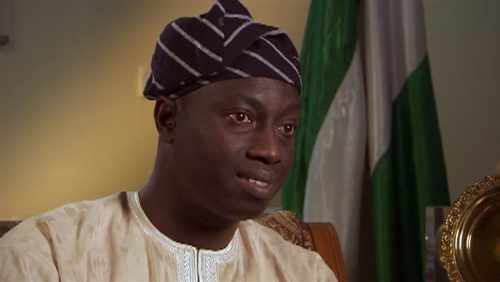 Leke Oyewole is the former Senior Special Assistant (Maritime Affairs) to ex-President Goodluck Jonathan on. He is also a former Director with the Global West Vessel Specialist Nigeria Limited (GWVSL), a firm once saddled with the responsibility of providing platforms for securing the nation's waterways.
In this exclusive interview with Shulammite 'Foyeku, he speaks on the Lekki deep seaport project, the controversial Secure Anchorage Area (SAA), and what the government can do to enhance maritime security in Nigeria, among other issues.
Excerpts:
The controversy over the Safe Anchorage Area operated by Ocean Marine Solutions Limited (OMSL) is still raging with the recent declaration by the Minister of Transportation, Rotimi Ameachi, that its operation is illegal. What is your take on this?
The need to secure the anchorage is paramount because we have reversed back to the era where robbers will rob ships even the one discharging at the port and those waiting at the anchorage are equally not secured. So there is need to secure the anchorage, but who secures the anchorage is the next thing. I am not aware that the Ministry of Transportation has security mandate. Security of the waterways belongs to the Navy and the Marine Police. If the Navy or the Marine Police have decided to outsource their responsibility, nobody can query them.
However, there is the need for the government to be proactive to save the port anchorage and our coastal waters. If we leave the insecurity challenge unchecked, it can also come in form of premium shippers have been paying for importing goods to Nigeria. If you import to neighbouring countries, you pay less freight than when you import to Nigeria. A car coming to Nigeria will pay $300 higher than the ones going to other neighbouring countries. So, if a ship that carries about 5,000 cars come to Nigeria, that means Nigerians have paid $1.5 million extra on that ship in the name of insecurity. If 20 ships come to Nigeria on a daily basis, and you multiply on the average, the $1.5 million by 20, you are talking about $30 million dollars. So Nigeria is bleeding at the rate of $30 million per day. That is unacceptable by any nation from shipping alone because that translates to increase in the cost of goods that land in Nigeria.
It is expedient and needful that the waterways are secured but the question of who secures it; whether the Navy does it directly or the Marine Police do their job as they should do still remains. Some have argued that the Navy's responsibility is to sustain the territorial integrity of Nigeria. More to that, the responsibility of the Nigerian Ports Authority (NPA) is also part of designating the anchorage including designating lightening zones. How well we secure those areas is another thing. If the government ever contemplated giving security mandate to the transport ministry, they also would have equipped them with guns. This has always been my take when people were taking about Global West in those days that NIMASA never had security mandate apart from International Ships and Ports Facility Security (ISPS), which has to do with the kind of cargo coming in and the measures to be taken to avoid any disaster concerning the cargo when they land. That is the much security that NIMASA does. Apart from that, NIMASA does not have any other security mandate – they can't even carry guns. But in the wisdom of NIMASA, they collaborated with the Navy to be able to do their statutory duties on the waters. So Global West that time was to provide vessels for Navy. That job was never a security job; it is for the company to provide vessels for NIMASA to be able to do their job but people choose to misinterpret it and call it a bad name.
What do you think can be done to check maritime insecurity?
We must go back to the system that kept insecurity away, which was what Global West System was doing then. The truth be told, NIMASA and other government parastatals have not been able to maintain ships because of the high cost of running it. By the time the ships get damaged, NIMASA will need to go back to the Minister (of Transport) to get approval to fix it or get new ones because it is beyond the approval limit of the Director General, and that is why NIMASA never had ships.
Unfortunately, all the 20 boats bought by Global West are all there wasting away, while we are looking for how to secure what was being secured then. You remember that the company would not be paid unless they pass a certain amount that NIMASA was generating before they were engaged. It is only the excess on top that they were sharing with the company. We must go back to that kind of system that will only reward hard work and in the course of doing that let the Navy also accompany them to create deterrence concerning robbery and piracy. That is the only sustainable system. If you tell government to go and buy 100 boats today and they are able to afford it, how do they maintain it? Global West was maintaining those vessels then while NIMASA was using them free of charge.
How about the maritime security contract with the Isreali firm being championed by the Transport Minister?
Is it the company that was paid $195 million? Was Global West ever paid that kind of money? The difference is that Global West was being paid only when they deliver. If there was a month where Global West did not cross the threshold, they will not be paid for that month. It was only when they cross the benchmark that they will be paid. But the Isreali firm have been paid whether they work or they did not work. I don't think I want to really comment on this issue.
NPA recently issued a directive for vessel diversion to eastern ports due to the recent increase in the waiting time of vessels at the Lagos ports. Beyond forcing ships to the eastern ports, what do you think the government can do to attract cargo to these ports?
The only thing they need to do is to dredge the Warri, Calabar and Port Harcourt ports so that big vessels can go there. Naturally, if I live in Port Harcourt and I imported containers, it does not make sense to take those containers to Lagos. We must acknowledge that those that bring their cargoes to Lagos and they live in Port Harcourt brought it because it is expedient they bring it there. If our waterways are safe, people will naturally go to Port Harcourt directly and if the channels of the ports in the eastern region are okay without issues, the vessels will go to those places. But when people have chosen to be coming to Lagos ports, it means certain things are being done in Lagos, maybe in terms of security, which has attracted vessels. So the vessels that will go to Port Harcourt may likely be prohibitive in their charges. So, if NPA says they are diverting cargoes to the eastern ports, maybe they have done the needful in those ports because I cannot own a $50 million ship and you command me to where the ship will go and crash, I will rather carry your cargo back to where I took them.
If I have my factory in Lagos, where I want my cargo and you now take me to Port Harcourt, who brings my cargo back to Lagos when I have already paid the freight to Lagos? The cost issue would have naturally been sorted out if people are allowed to make up their mind that they want their cargo in the east. If I am an Aba or Onitsha trader, I should naturally choose Calabar or Port Harcourt port. But why would I choose Lagos and be diverted to Onitsha? That means something is fundamentally wrong. That wrong issue is what should be addressed.
How will you assess the Federal Government's ease of doing business policy at the port?
Sincerely speaking I have not visited the port for a long time and I do not really know how easy it has been to clear cargo out of the port but I read recently that 30 percent of the port space is occupied by overtime cargo. That means people still do not find it easy to take their cargoes out of the port. The turnaround time of ships may also indicate how easy it is for the ships coming to Nigeria to do their businesses. If the turnaround time is very short such that a ship that comes in today can leave within one or two days, that means it is a good one. But if a ship comes and have to stay for two weeks or more, those are the things that have added up to the cost of freight to Nigeria, we must addressed those things.
Why can we not embrace a system where people can clear their cargoes online without necessary having to go to the port moving from table to table with Customs? If you go to others ports in the world, you don't see the kind of multitude of people that visit and throng our ports on a daily basis. Ease of doing business will also be related to infrastructures outside the port. How good is the road leading to the ports? Thank God the government is looking at that and linking the port to the rail. We must also improve on our coastal services to be able to carry containers on waters. I was impressed with the Customs when I got to Abuja airport and I saw that there were scanners every baggage can pass through. If they can replicate the same thing in the port, that will also improve cargo clearance time. Government needs to divert its effort in that area to acquire scanners for Customs. We cannot be talking about ease of doing business when we are still doing 100 percent physical examination at the port. That can also contribute to the congestion in the port. So, if I am to aggregate all these factors together, we still need to do more to improve on the ease of doing business at the ports.
The management of Lekki deep seaport recently announced that the port would commence operation in 2022. Do you foresee any possibility of having the port linked by rail before this time?
From day one of the concession of that project, I have never supported it. If they commence operation, how are they going to manage the gridlock along the Lekki-Epe road? Is Victoria Island not going to turn to another Apapa? Common sense should have sensed that even before the start of the project. When I mentioned it then, they said Fourth Mainland Bridge was coming. Is it a container bridge they are building? That port to me, from day one did not command any sense of good traffic in that place. How they want to do it, I don't know. Apapa has been there for donkey years, no rail connecting it; you are now talking about a rail in Lekki. The rail project has not been awarded and the port is about to take off. We can't stand logic on its head and expect any sanity.
Copyright Ships & Ports Ltd. Permission to use quotations from this article is granted subject to appropriate credit given to www.shipsandports.com.ng as the source.