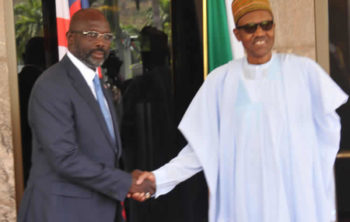 President Muhammadu Buhari on Monday had a closed-door meeting with the visiting Liberian President, George Weah, at the Presidential Villa, Abuja.
Weah, who is said to be on a "Thank You" visit to Nigeria, arrived the Presidential Villa at about 12.33 p.m.
The Liberian President was received by his Nigerian counterpart at the presidential forecourt before the duo went into a closed-door meeting.
The former football star and a one-time World Footballer of the Year, was sworn in as Liberia's new president on Jan. 22.
Weah won Liberia's presidential election as the candidate of the opposition Coalition for Democratic Change (CDC), when he scored 61.5 percent of the total of 720,023 votes cast, defeating the incumbent vice president of the country, Joseph Boakai, and the candidate of the ruling Unity Party.
Buhari, who will be leaving for Accra, Ghana, later today, is billed to meet with the leadership of the National Assembly before leaving for the troubled Mambilla Plateau in Sardauna Local Government Area of Taraba.
Already the President's advanced team of personnel had left Abuja for Taraba to prepare for his arrival.