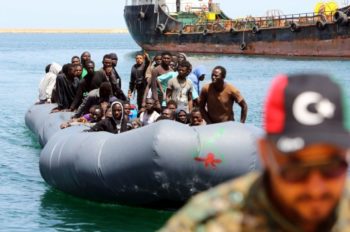 Libya's coast guard has said it intercepted 40 migrants including Nigerians on Saturday in the Mediterranean Sea, near its shores, bound for Europe.
Coast guard Spokesman, Ayoub Gassim, who made this known on Sunday said a boat carrying 31 men, eight women and a child was stopped off the coast of the western city of Zuwara.
He said the migrants, who are of Moroccan, Egyptian, Syrian and Nigerian nationalities, were taken to a naval base in Tripoli.
Libya has emerged as a major transit point to Europe for people fleeing poverty and civil war elsewhere in Africa. Human traffickers have exploited Libya's chaos following the 2011 uprising that toppled and killed longtime ruler, Moammar Gadhafi.
Libyan authorities have stepped up efforts to stem the flow of migrants with the help of training and money from Europe.
Agency Report