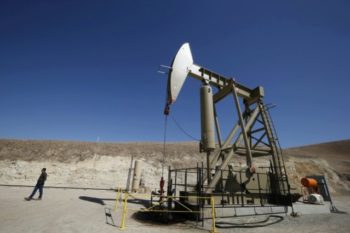 Libya's El Feel oilfield was shut Friday after the withdrawal of guards from the field that is in an area where there are armed guards, a local mediator and a Libyan oil source said.
The field, operated by a joint venture between the state-owned National Oil Corporation (NOC) and Italy's Eni , was producing 70,000 barrels per day (bpd) before the shutdown.
The stoppage came after negotiations on Thursday to resolve a protest over pay and other demands by some guards at the field, which had led to the evacuation of non-essential staff the previous day, sources said.
Guards withdrew completely after rejecting a request from the NOC to stay on as talks continued, according to Hassan Bedy Abubaker, a former guard who said he was now involved in mediating between local representatives and the NOC.
"All the petroleum facilities guards of El Feel field withdrew last night and all the field's staff have also been evacuated," Abubaker told Reuters by phone. "The last group left on Friday."
"The field is shut and pumping process has also stopped," he said.
Two other local sources who declined to be named confirmed that the field had been shut, although there were also reports that guards had returned to the field after the closure.
Crude from El Feel is blended with condensate from the Wafa field to form the Mellitah blend, which is exported from the Mellitah terminal.
Guards are drawn from local groups and have previously disrupted production at El Feel and other fields over claims of late payment of salaries and demands for local development projects.
Following repeated shutdowns and blockades at facilities across the country, the NOC raised Libya's production last year to more than 1 million bpd for the first time since 2013.
Output remains well below the 1.6 million bpd Libya was producing before the country's 2011 uprising.
Agency Report