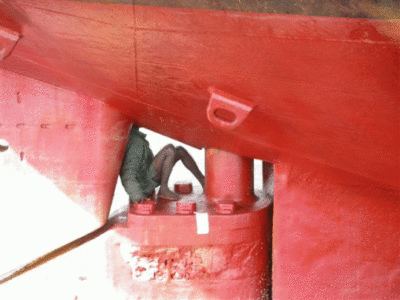 The ports in Ghana, just like their counterparts in Nigeria, are battling to stop people who hide aboard ships at berths in order to gain free passage out of the country.
Towards this end, the Ghana Ports and Harbours Authority (GPHA) said it is developing stringent security measures to close all avenues used by persons who want to use the country's seaports to stowaway to Western countries.
Security operatives at the Tema Port say stowaway is the major challenge faced by the GPHA as 'one or two' persons have been caught engaging in it this year.
Deputy Harbour Master in-charge of operations, Stevens Siaka-Anane, disclosed this on Thursday during the Second Chartered Institute of Logistics and Transport (CILT) Ghana Continuous Professional Development Programme at Tema.
The programme was on the theme, "Review of Maritime Security in Ghana Territorial Waters"
Siaka-Anane explained that mostly, such stowaways hid in empty containers from depots, adding that such containers often do not undergo scanning.
He indicated that officials of Abidjan port in Cote d'Ivoire always accused Ghana of allowing people to stowaway, as according to them, whenever they arrested such persons they turn out to be Ghanaians.
The Deputy Harbour Master said measures put in place to curb the practice included proper identification and restriction of persons going onboard of vessels be they stevedores or for any business
Others are stringent access control, monitoring of stevedoring, gangway manning, waterside patrols, and empty container visits as well as the usage of trained dogs for rummaging and prosecution of persons who attempted to stowaways.
The Vice President of CILT Ghana, Samuel Etsibah, in a keynote address at the event, said the theme for the programme was timely as Ghana prepared its comprehensive maritime policy framework (National Integrated Maritime Strategy) to ensure development and protection of its marine resources and users of its territorial waters.
He said even though Ghana's maritime borders could be described generally as well secured, it required maintenance and improvement against piracy, illegal fishing, human trafficking, narcotics, and international trade, among others.
In Nigeria, stowaways are arrested d prosecute on a regular basis. The latest of such prosecution happened on September 12 when the Port Criminal Investigation and Intelligence Department (PCIID), Apapa, arraigned four stowaways before an Apapa Magistrates' Court for allegedly boarding a ship without purchasing tickets.
The four stowaways are Henry Tyohuna (27), James David (21), Simeon Francis (32) and Alika Cesaro (25).
They are facing a two-count charge of conspiracy and stowaway
The port prosecutor, Sergeant Adeniyi Balogun, told the court that the defendants committed the offences on September 9, 2018 at Ports and Terminal Multi-Services Ltd (PTML), Tin Can Island Port, Apapa.
"The defendants conspired together with others at large, entered KEDRO'S VESSEL with the intention of travelling to Europe without purchasing tickets or being a passenger of a ship," Balogun said.