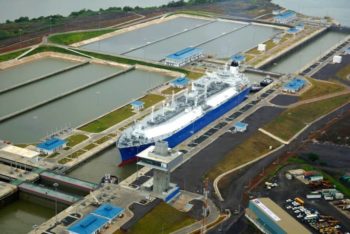 By Reuters
The number of liquefied natural gas (LNG) tankers traversing the Panama Canal is expected to jump 50 percent by September due to rising exports of the fuel from the United States, the head of the canal's governing agency told Reuters.
After adding a third set of locks in 2016, the Panama Canal Authority expects that growing global demand for LNG will boost transit through the waterway, said Jorge Quijano, head of the authority.
Demand for LNG has taken off in recent years because of abundant supplies of natural gas, especially from United States shale fields, and because natural gas is a cleaner burning fuel than coal or oil.
"We are about to reach one (LNG tanker) per day," Quijano said.
The canal received 60 LNG tankers in the last quarter of 2017, up sharply from 43 tankers in the same period a year earlier. Most carriers are loaded in the United States for delivery to the Pacific coast of Mexico or South America.
Houston-based Cheniere Energy, which owns and operates the Sabine Pass LNG export facility in Louisiana, has been expanding exports while building a new LNG plant near Corpus Christi, Texas, expected to come online in December.
An LNG plant is used to process natural gas for export.
Cheniere, which signed an agreement last month to sell trading firm Trafigura 1 million tonnes of LNG per year for 15 years beginning in 2019, plans to inaugurate a second liquefaction at Corpus Christi and a fifth train at Sabine Pass next year.
U.S. LNG exports via the Panama Canal fell temporarily in September due to damages caused by Hurricane Harvey to several Texas and Louisiana ports, but have recovered in recent months, Quijano said. U.S. export capacity jumped to 18 million tonnes per annum (Mtpa) last year from less than 2 Mtpa in 2015.
Panama is trying to be more flexible for LNG transit bookings so exporters can choose to pass through the canal even if that was not originally planned, Quijano said.
Copyright Ships & Ports Ltd. Permission to use quotations from this article is granted subject to appropriate credit given to www.shipsandports.com.ng as the source.