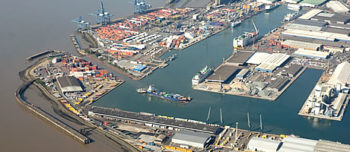 The Port of Tilbury, London's major port, is pressing forward with its plans to build a new port terminal and will soon begin its pre-planning community consultation to seek local views on its proposals. 
The proposed new port terminal, known as Tilbury2, will be built on a 152-acre site which was part of the former Tilbury Power Station and will include a new pontoon and deep water jetty. It will be positioned adjacent to the current port.
The meeting to discuss the plans with the local community will take place on March 6. It is the first stage of seeking views and will be followed by statutory/formal consultation during the summer.
In its argument for building a new terminal, the Port of Tilbury said it has been expanding at a fast rate over the past two decade as businesses in the port look for more space and land; coupled with a significant increase in the goods and products coming through the port.
The port estimates that this will increase further in the next 15 years, meaning a new port is needed to support the growth.
The proposed terminal at Tilbury2 will act as a satellite of the main port and it is proposed that it will comprise a roll on/roll off ferry terminal for importing and exporting containers and trailers.
Tilbury2 is also likely to include a facility for importing and processing bulk construction materials to support demands from the UK's building sector. In the northern part of the site there is land available for the potential storage of a variety of goods, including cars.
Peter Ward, commercial director at the port, said: "We are one of the largest ports in the South East and have an ambitious plan in place to continue to grow and to bring economic benefit and jobs to the area. Our customers are looking for expansion opportunities in Tilbury and Tilbury 2 is a part of the port's overall investment strategy.
"The success of the port in recent years means that we now need more land close to the port to grow and our proposals for Tilbury2, on part of the site of the former Tilbury Power Station, will allow us to do this."
Copyright Ships & Ports Ltd. Permission to use quotations from this article is granted subject to appropriate credit given to www.shipsandports.com.ng as the source.