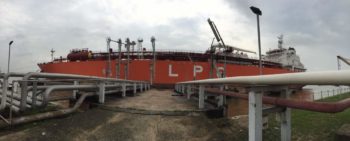 MT Sahara Gas, the newly built vessel acquired by the West Africa Gas Limited (WAGL), in its historic maiden voyage to Nigeria has delivered 7,000 metric tons of Liquefied Natural Gas (LPG).
WAGL, a Joint Venture of Nigerian National Petroleum Corporation (NNPC) and Sahara Group in January 2017 acquired two new vessels, MT Africa Gas and MT Sahara Gas in its bid to reduce transportation bottlenecks, add value to the Nigerian economy by exporting the commodity widely known as cooking gas, deepen the LPG market in West Africa as well as enhance access to clean and safe energy.
NNPC's Group Managing Director, Dr Maikanti Baru, said in keeping with the Federal Government's economic growth plan, WAGL remained committed to stabilizing the market and ensuring sustainability of the commodity through strategic deliveries within the sub-region.
He said, "This is a historic achievement for the NNPC and Sahara Group that showcases a truly successful partnership by all global standards. The quest is to achieve uninterrupted supply of the commodity and address infrastructural limitations as we continue to implement our zero-tolerance policy against adulterated products and their promoters across the nation."
Baru said the NNPC/Sahara Group partnership remained a model for successful JVs, adding that both parties were considering various strategies to optimise the delivery of the product across West Africa.
Speaking aboard the vessel, Managing Director, Petroleum Products Marketing Company (PPMC) Umar Ajiya, said it was a significant and important milestone not only for Nigeria, Africa and the entire shipping and maritime industry.
Also commending the NNPC/Sahara Group Partnership, WAGL's Managing Director, Roland Omoregbe, said, "This is the first time the private sector in Nigeria is involved with the NNPC in ensuring that there is enough supply of LPG to the country. We are happy that it has done several voyages into West Africa, including Lome, Ivory Coast and Ghana and we are counting more.
"The sister vessel, Africa Gas is in the West Africa waters as we speak. We have strategic plans to flood Nigeria with LPG and other cleaner sources of energy to do their domestic chores which will, in turn, save our country and our planet."