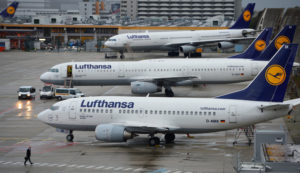 Lufthansa German Airlines has announced several activities for the world's largest beer festival that started in Munich, Germany.
In a statement on Thursday, the company noted that Nigeria is right on top in Africa on beer related matters with 12.28 liters per year, leading the top 10 biggest beer consuming countries in Africa.
"So no doubt that the world's most popular beer festival – the Oktoberfest in Munich, Germany – creates also some excitement in Nigeria every year as each year numerous visitors from Nigeria are seen at the Oktoberfest," it said.
As a tradition for Lufthansa German Airlines, during the Oktoberfest, the Lufthansa Trachtencrew will once again be flying Bavarian tradition around the world.
"On September 25, the Trachtencrew, dressed in traditional Bavarian costume, will fly to New York with LH 410, and on October 1, they fly on to San Francisco with flight LH 458. Already middle of this month, September 15, twelve female flight attendants and two male flight attendants landed in Seoul on-board the LH 718, where they were greeted enthusiastically.
"This year's costume has been designed and tailor-made by Munich Tracht specialist Angermaier. The Wiesn dirndl of the female flight attendants is dark blue with a silver-grey apron, and the gentlemen will wear a short pair of Lederhosen with a dark-blue waistcoat in the same fabric as the dirndls. Angermaier has now outfitted the crews in the spirit of the world's largest fair for the third time in a row.
"As in previous years, there will also be Tracht flights to selected European destinations from Munich. At the beginning and end of the Munich Oktoberfest, one crew from the Lufthansa CityLine will exchange their uniforms for a dirndl. This year's destinations include Dresden, Amsterdam, Bastia, Prague, Timisoara, Münster/Osnabrück, Belgrade, Warsaw and Brussels.
"Flying Lufthansa, passengers from Nigeria, of course, arrive at the Frankfurt hub. However, during the Oktoberfest it is more than ever worth continuing to Lufthansa's second hub in Munich as it has been a tradition for several years for the Lufthansa staff in passenger service at Terminal 2 in Munich to welcome guests wearing traditional costume. In addition to the Lufthansa uniform, the ladies will be wearing Lufthansa dirndl in yellow and blue, and the gentlemen will wear blue Tracht suits. The service staff in the Lufthansa First Class Lounges will wear a Tracht in gold and black.