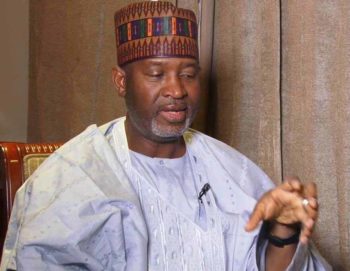 By Omotilewa Quadri 
The Minister of State for Aviation, Hadi Sirika, has said that the delay in the establishment of a national carrier for the country was because Lufthansa Group earlier appointed by the Federal Government as transaction advisers turned down the offer. 
While addressing stakeholders on Thursday at the 4th Aviation Stakeholders Forum in Abuja, Sirika said the consortium failed to communicate its acceptance or rejection of the offer to the government six months after, leading to a delay in the national carrier establishment process.
He said when the company eventually responded, it came up with a counter offer, which the government could not accept leading to the cancellation of the offer.
He said Lufthansa asked the government to open an escrow account abroad as well as requesting that transactions be carried out in foreign currencies.
"In order not to rush and take wrong decision, we decided to take time to engage the consortium comprising Airline Management Group Ltd, Avia Solutions Ltd and Tianerro FZE.
"Airline Management is a UK-based firm with experience and expertise in Airline Start Ups and turn around, which has led to some of the most successful transformation and cost reduction programme in the Aviation industry.
"The Transaction Advisers have all commenced work and are liaising with the Project Delivery Team to outline Business Case for adopting PPP methodology.
"They are to develop a well-structured PPP procurement process and select a PPP Partner.
"This is not the first time the transaction advisers are starting the job, they have been on ground but because the Nigerian public are eager to know them.
"We decided to unveil them and let them talk to the stakeholders.
"People want to know if those advisers are legally engaged, whether due process was followed in accordance with the ICRC regulations and like you heard from ICRC person, we followed the due process," he said.
The Chairman, Airline Operators of Nigeria (AON), Noggie Meggison, urged the transaction advisers to engage the stakeholders in the processes of the projects. 
Copyright Ships & Ports Ltd. Permission to use quotations from this article is granted subject to appropriate credit given to www.shipsandports.com.ng as the source.