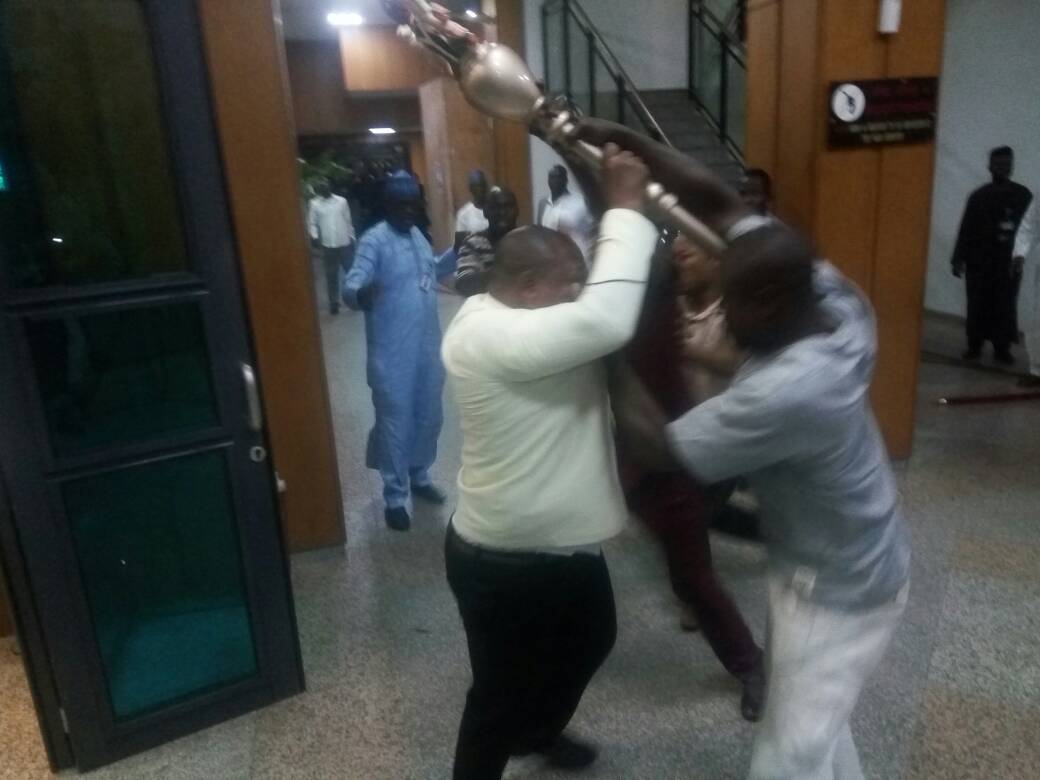 At about 11:15 a.m. on Wednesday, April 18, 2018, the Senate plenary was violently disrupted as hoodlums made a barbaric incursion into the hallowed chamber and stole the mace, right in front of "constellations of cameras". It is alleged that the mace heisters came into the chamber with suspended senator, OvieOmo-Agege.  Thereafter, they quickly took the mace and dashed out of the chamber. According to media reports, they left the National Assembly Complex "with the mace in a black SUV."
Also, according to media reports, security operatives at the checkpoint of the National Assembly made efforts to deter the thugs from entering. But the thugs alleged that they were with the Senator; "We tried to stop them but they told us they were with him (Omo-Agege)."
There are many precursors to this blatant banditry at the hallowed chamber. The mace due to its centrality to the powers, practice and procedure of the legislative arm of government is often a target of assault in Nigeria.  In 2010, when members of the Federal House of Representatives had a free -for-all fight on the floor of the house, Dino Maleye and his group, which were opposed to the then embattled speaker of the house, DimejiBankole, used the mace as a weapon of war.
Similarly, in June 2015, during the heydays of the "fraternal squabble" amongst APC lawmakers over the leadership of the National Assembly, plenary was disrupted. Lawmakers loyal to the speaker, YakubuDogara, promptly took custody of the mace. They later said it was a preemptive measure to ensure that anti-Dogara lawmakers did not capture the mace.
We must not forget that in 2013, "Rivers lawmakers beat up one another with assembly mace." Five lawless lawmakers seized the mace in an attempt to impeach the then speaker who was a staunch supporter ofRotimiAmaechi. In an attempt to retrieve the mace, a fight ensued and it was used as an instrument of warfare.
The quintessential politician, former Senate President, ChubaOkadigbo, understood the import of the mace. When former President OlusegunObasanjo wanted Okadigboimpeached, Okadigbo adjourned proceedings and his support group took the mace. When the then deputy senate president, HarunaAbubakar, sought to reconvene the Senate he produced "a fake mace which was intercepted", and thereby, the ploy to reconvene senate was thwarted.
However, this is the first time non-lawmakers will evade the hallowed chamber and boldly take away the mace. This is a dangerous precedence. If urgent, decisive and coherent policy actions are not taken to revamp our ailing security architecture, mobs will rule in the various citadels of power across Nigeria. If the criminal heisters of the mace are not brought to justice deftly, it will embolden many miscreants to attack our democratic institutions and drag Nigeria to the cesspit of odium in the international community.
The mace is not a decorative object. It is symbolic. It signifies the authority of the parliament. By extension, the reign of law and order. Against the backdrop of the fact that the legislative arm of government is the essential differentiator of democracy from military rule, this savage, unwarranted attack amounts to a "civil coup."
The position of Senator Joseph Waku reinforces the gravitas of the mace theft: "The person behind this should be brought to book. That (National Assembly) is an institution. It is an attempted coup. He should be tried for treason. The mace is the symbol of authority of the senate and the Senate President is the chairman of the National Assembly. So it is an attempted coup and should be treated as such."
Cynics of Nigeria's democracy are fond of comparing the state of the nation with what prevailed during military autocracy. They think it is either democracy or autocracy.  But there is an alternative to democracy or rather an excrescence of democracy. It is called mobocracy.  Mobocracyis infinitely worse than democracy.If there is any modicum of truth in the allegation that Senator OvieOmo-Agege is the mastermind of the mace theft, then we may say Nigeria is in danger of slipping into a mobocracy.
Mobocracy speaks of the rule of mobs. It is chaotic style of government driven by pretentious public spirited miscreants. They control "public affairs in a nation without respect to law, precedents, or vested rights". Ages ago, territories conquered by imperial warriors established the rule of mobs. Alexander the Great, Genghis Khan, present a picture of government of mob by mob and for mob.
It is a well-known fact that former President OlusegunObasanjo does not think highly of the National Assembly (NASS). He oftencharacterizes NASS as an organ of mobocracy. To amply buttress this claim, permit me to extensively quote the remarks he made during the  first Akintola Williams annual lecture, 2016, which was held in Lagos: "The national assembly cabal of today is worse than any cabal that anybody may find anywhere in our national governance system at any time. Members of the national assembly pay themselves allowances for staff and offices they do not have or maintain.
"Once you are a member, you are co-opted and your mouth is stuffed with rottenness and corruption that you cannot opt out as you go home with not less than N15 million a month for a senator and N10 million a month for a member of the house of representatives. The national assembly is a den of corruption by a gang of unarmed robbers. Most of them conduct themselves and believe that they are not answerable to anybody. They are blatant in their misbehaviour, cavalier in their misconduct and arrogant in the misuse of parliamentary immunity as a shield against reprisals for their irresponsible acts of malfeasance and/or outright banditry."
When accountability or answerability is a missing element in a democratic institution, the principles of mobocracy will inspire its actions. Cabalistic misrule will trump good governance. They will start operating like "a den of corruption by a gang of unarmed robbers" and "irresponsible acts of malfeasance" will be normalized.
It is sad that our well-paid senators lacked the moral courage to make feeble attempts to defend a most sacred instrument of authority. Not a single Senator on the floor dared to resist the thugs as they made away with their symbol of integrity and sanctity. Some posers circulating on social mediasupposedly raised byformer Chairman, Nigerian Human Rights Commission, Prof. ChidiOdinkalu are worth considering: "What kind of institution is it whose members are unwilling to stand up in defence of its instrument of authority when it is being kidnapped right in front of their eyes? Why should we ordinary citizens actually lift a finger or voice to defend them if they can't defend their institution when it matters?"
Let me hazard a guess. In the rule of mobs, heroism is not a virtue.
Theoretically Nigeria is not a banana republic where governing power is exercised by disorderly and militant elite. But there is something mob-like about our democracy. The pervading state of insecurity in Nigeria creates the impression that there is a gradual entrenchment of mobocracy. The rule of force is evident everywhere. Criminal mobs act as if they are above the law. They set defenseless towns ablaze. They wantonly kill farmers and evade legal consequences. Kidnappers assault the freedom of citizens, make money, freely move around, and flaunt their symbols of opulence.
One thing that is clear from the invasion of the senate chamber is that the ruling classes are not as safe as they may think. They are as vulnerable as underprivileged citizens, those without voice and social agency. Is it not an irony that when it mattered most the security operatives in NASS could not deter hoodlums from perpetuating such barbaric attack on democracy? This should stir all and sundry to start prioritizing our collective security above individual security. This security breach has amply exposed the futility of having scores of security agents attached to very important personalities and their families while mayhem reigns in the streets and ordinary citizens die like chicken every day.
It is evident that security agencies are overburdened. Everyday, gallant security operatives are prone to criminal attacks. Some die in the patriotic bid to make Nigeria safer. Government must do all it takes to motivate and empower them. Well-meaning rich Nigerians should support security agencies as well.
For democracy to work, government must endeavor to ensure that "security first" is not merely a subject of political rhetoric, but a governing principle of social action. Security first must assume practical relevance. It must be seen in the training and retraining of security operatives. It must be seen in the systems of intelligence gathering.It must manifest in the existential wellbeing of security operatives. If security operatives and their families are not assured of undisturbed material wellbeing, how can they offer heroic services and if need be die for the nation while discharging their duties? It must be said that democracy without security is a prelude to mobocracy.