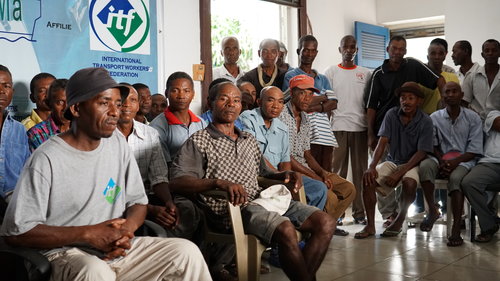 The plight of the Malagasy 43 – dockworkers sacked in Madagascar for standing up for their rights – reached the highest levels of the Madgascan Government on Monday with protests at Parliament and meetings scheduled with Government to try and resolve the dispute.
The International Transport Workers' Federation (ITF) and local Madagascan union SYGMMA were expected to meet with the Minister of Public Service, Labor, & Social Law Jean de Dieu Maharante to request that the Madagascan Government enforce the Supreme Court ruling and resolve the worsening dispute. The meetings come after major international garment manufacturers Esprit and Levi Strauss backed the workers and called on the government to uphold basic labour rights. 
ITF President and Dockers' section Chair Paddy Crumlin said the Malagasy 43 had support from around the world, with dockers in Indonesia holding events in their ports to show solidarity with them. 
"We will keep fighting for justice for these workers. The government and ICTSI need to agree to work with the unions to improve safety and working conditions at the port. The first step is to accept the court ruling and let them get back to work.
"The other message we will be giving the government is ICTSI is a rogue operator. They boast about charging hugely inflated prices of US$250 to move a container through their African ports while paying their workers as little as US$40 per month.
"ICTSI were a bad choice to operate the port.
"The ITF will be delivering this message today in Madagascar and in the future across Africa – wherever ICTSI are looking to expand into. There are better operators for governments to partner with. In particularly Tanzania where they are interested in buying the port operator, the government should be wary and instead choose an operator that charges their customers fairly and treat their workers with dignity and respect," Crumlin said.
The Government of Madagascar faces an International Labour Organisation (ILO) complaint over the dispute. These workers were sacked for fighting for better wages and against dangerous conditions. After joining their union, they faced intimidation and retaliation from management – who gave them two options: leave the union or lose their jobs.
The workers refused and were sacked, contravening their rights to freedom of association. None of the 43 workers have been reinstated. Most are struggling to survive.
The Supreme Court of Madagascar ruled that the workers should be re-instated but the Government has refused so far to enforce the decision.
The ICTSI operated Port of Toamasina is the main gateway for $360 million worth of textile products exported to Europe, $100 million to South Africa, and $60 million to the USA. Major international brands source clothing in Madagascar – including Esprit, Eddie Bauera, Camaieu and Levi Strauss. 
Copyright Ships & Ports Ltd. Permission to use quotations from this article is granted subject to appropriate credit given to www.shipsandports.com.ng as the source.