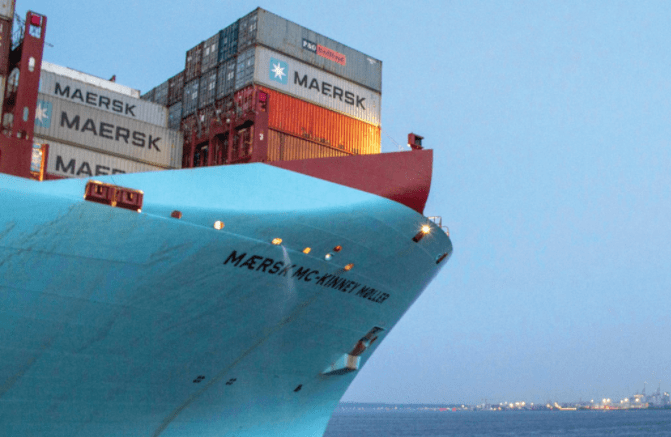 Due to the chaotic supply chain situation at UK's busiest seaport, the Port of Felixstowe, Danish shipping giant Maersk has asked its customers to divert the return of empty Maersk containers to alternative locations.
Felixstowe is battling a perfect storm of high volumes of imported containers, exported empties, and a trucker shortage that have created a shipping logjam that is threatening Christmas toy shortages.
"The UK is currently suffering from a lack of truck drivers which is causing several challenges, including terminal congestion in key ports with limited inland haulage options," Maersk said in its update.
Maersk said previously it was bringing in extra loaders, source berthing windows, and procuring additional off-dock storage facilities to relieve yard density, part of a plan to increase empty uplifts during vessel calls.
Last week, however, Felixstowe was forced to suspend the return of empty containers due to high yard density and increasing dwell times. So to help ease supply chain bottlenecks, Maersk is now asking its customers to divert the return of empty Maersk containers to alternative locations around the country, while also diverting certain vessels to other ports.
"Our plan is then to move the containers via smaller vessels to their intended destinations. In view of ongoing berth congestion and resulting berthing delays in Felixstowe, by provisionally diverting the vessels that are currently waiting and bringing our customers cargo back on smaller vessels, we expect to minimise the current delays our customers are experiencing," Maersk's update said.
The company's top priority is to avoid further port congestion and disruptions, saying it is imperative to reduce the flow of empty containers at Felixstowe.
Maersk said starting from Tuesday (today), it will be making a number of short-term structural changes to its network to further mitigate the impact on global supply chains and ultimately help get cargo to where it needs to be.
"As the situation evolves daily, we are working closely with all involved stakeholders in the local supply chain to help alleviate the situation. We will continue to rely on rail as the backbone of our inland UK operations, and we remain committed to limiting the impact on our customers' businesses.
"Having the ability to move a high number of containers 'in one go' from port to a proximity of final customer destinations will support our efforts in ensuring a robust and reliable pipeline of inland capacity for our customers. Also, with the opportunity to reduce CO2 emissions, traffic jams and accidents, this will aid in lessening the knock-on effects of the port congestion," it said.
A report last week warned that some $2 billion of imports could be affected by the current congestion, with one government official advising Christmas shoppers in the UK to buy as normal.