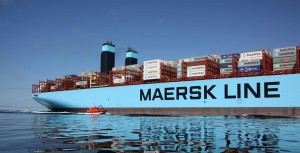 Ask any captain and he will tell you that in certain ports, if you want to ensure that your ship receives proper service, you will have to give small gifts to officials, pilots and the harbour authorities.
At an anti-corruption course held recently at Malmö's World Maritime University, Maersk Captain Morten Busch put it even more bluntly: "At one particular port it was common practice for officials to demand cartons of cigarettes as a facilitation payment to enter. As pressure grew for us to cut these payments to zero, it became a battle."
These 'facilitation payments', although illegal in most places around the world, have often been necessary in order to get Maersk's container ships quickly and painlessly out of various harbours.
Maersk has more than 600 container ships, so the cumulative cost of paying up is potentially very high.
However, that is all over now, Maersk Line's anti-corruption chief, Kristin Berglund, told DR Nyheder. "We've almost eradicated facilitation payments in Maersk Line."
According to Berglund, the extent of facilitation payments has fallen by 87 percent from 2015 to 2016. This is partly because Maersk captains now refuse demands for bribery point-blank. They also have access to a database that can inform them in advance as to what problems they might meet at the next port, and they have access to a 24-hour hotline if problems arise.
Even though the news that Maersk ships don't pay bribes has spread, personnel are still put under massive pressure to pay up, according to Berglund.
"Passports have been impounded, there have been arguments, and threats of fines and crew members being arrested, so there is still a lot of pressure on our crews to make facilitation payments."
Copyright Ships & Ports Ltd. Permission to use quotations from this article is granted subject to appropriate credit given to www.shipsandports.com.ng as the source.