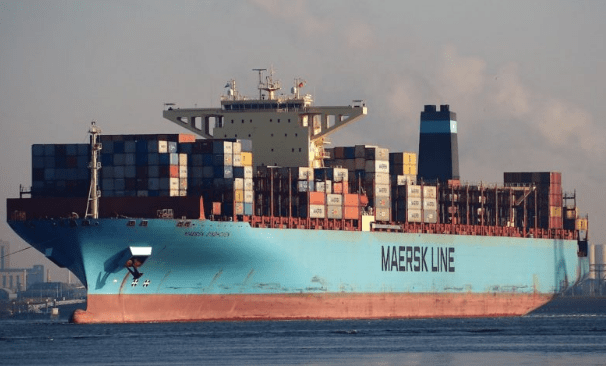 Maersk has said that a loss of propulsion led to some 260 containers falling overboard from the Maersk Eindhoven in severe weather off the coast of Japan this week. Another 65 containers are reported damaged on deck.
The new details were provided in an update from the Danish shipping giant on Friday. The company said an initial analysis indicates that the Maersk Eindhoven's loss of propulsion was the result of low engine oil pressure which triggered a safety feature causing the ship's main engine to shut down, as opposed to some other malfunction or maintenance issue.
The preliminary reports indicate no major damage to the vessel, which is now returning back Asia.
The statement reads: "As previously reported, the Maersk Eindhoven experienced a loss of engine propulsion for 3-4 minutes while sailing 45 nautical miles off Northern Japan in heavy seas on 17 February 2021.
"The loss of maneuverability resulted in severe rolling with 260 containers overboard and 65 containers damaged on deck. Customers were advised immediately of vessel and cargo status.
"Propulsion power was quickly restored on the vessel and the initial analysis indicates engine oil pressure triggered a safety feature, causing the engines to shut down. No malfunction or maintenance issues have been identified.
"The crew is safe and a complete investigation is ongoing. The vessel has had no further incidents and is sailing in calm seas, returning to a North Asia port for inspection and repair. The port decision will be announced shortly.
"Preliminary reports show slight damage with minimal repairs required to the vessel. We continue to take the situation very seriously and are in the process of conducting a complete investigation of the incident."
Maersk Eindhoven is a 13,100 TEU containership sailing under the Danish flag. The vessel had departed Xiamen, China sailing to Los Angeles on Maersk's weekly TP6 Asia/US West coast service when the accident occurred.
The incident comes after the Maersk Essen, a similar-in-size ship operating on the same route, lost approximately 750 containers overboard in heavy seas on January 16, 2021. After that accident, the vessel sailed for Lazaro Cardenas, Mexico where minor vessel repairs and cargo operations took place. Maersk informs that the vessel is now scheduled to depart Lazaro Cardenas on February 20 bound for its original destination of Los Angeles, where it is scheduled to berth at APM Terminals Pier 400 Los Angeles on March 4.
The incidents add to growing number of containers being lost from ships on the trans-pacific since November as the pandemic-fueled cargo boom continues at the nation's top ports for containerized imports from Asia.