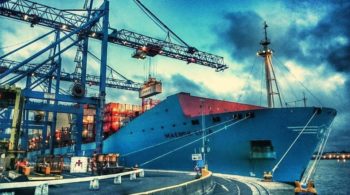 Maersk Line has sent eight of its Panamax containerships to be recycled in shipbreaking yards in India and China.
The decision to scrap the eight vessels was in part driven by an ambition to enhance flexibility in the 4-5,999 TEU network, where 60-65% of the total Maersk Line fleet is owned. Deals for the vessels were struck in early December with two ship recyclers in India and one in China.
In India, two vessels will be recycled by Shree Ram, and the remaining two vessels by Y.S. Investments.
The remaining four vessels will be recycled at Jiangyin Xiagang Changjiang Ship Recycling in China,
The ship recyclers have agreed in full to the A.P. Moller – Maersk Responsible Ship Recycling Standard.
Estimated transfer dates of the vessels to the ship recycling yards are between mid-December 2016 and mid-March 2017.
In the coming years, Maersk Line expects to recycle a larger number of vessels than in previous years as more vessels are coming to their economical end of life. With Maersk Line's fleet of more than 600 vessels, owned and chartered, any decision to recycle depends on a broad set of variables – not least the state of the market, the company said.
In November, Maersk Line and Maersk Transport & Logistics Sustainability selected five ship recycling facilities in China and India for a tender to recycle eight Panamax vessels. All ship recyclers agreed to the A.P. Moller – Maersk Responsible Ship Recycling Standard (RSRS) as a prerequisite to enter the tender.
"These vessels represent roughly 1% of our fleet, so this is a small but meaningful capacity reduction, which will contribute to achieving a better balance between supply and demand for Maersk Line," said Maersk Line COO, Søren Toft.
Recycling supervision will be carried out by Maersk QHSE superintendents and external consultants to ensure responsible ship recycling operations according to the A.P. Moller – Maersk RSRS.
"Since our first vessels arrived in Alang earlier this year, we've seen significant progress – at the facility we are working with now, at the facilities that will recycle these next four vessels, and even at other facilities that have been encouraged to invest and upgrade," said Annette Stube, Maersk Transport & Logistics Head of Sustainability.
"With this tender, we have for the first time seen that the ship recyclers compete not only on price but also on standards. This indicates a move towards higher standards, and we will continue to encourage this development."
Copyright Ships & Ports Ltd. Permission to use quotations from this article is granted subject to appropriate credit given to www.shipsandports.com.ng as the source.