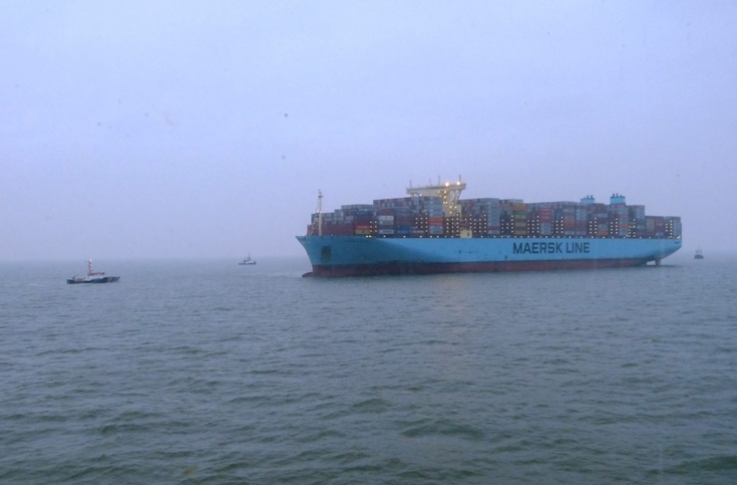 A Maersk megaship has run aground in the North Sea just off Germany, not far from a popular tourism island.
The Danish shipping giant confirmed that its MV Mumbai Maersk grounded outside Bremerhaven and efforts are underway to refloat the vessel.
All crew are reported safe, there is no pollution, and no sign of hull breach.
The entrance to the Port of Bremerhaven, one of the largest ports in Europe, is not impacted.
A flotilla of tugs will try to refloat the vessel at the next high tide around midnight, which is expected to be about a half meter above normal. A first attempt to refloat the ship was aborted.
Mumbai Maersk was on its way from Rotterdam to Bremerhaven when it grounded during its approach to Germany's Weser River at around 23:05 LT Wednesday night, according to Germany's maritime emergency agency Havariekommando.
Built in 2018, MV Mumbai Maersk is one of the largest ships in the world, coming in at 399 meters long and 19,630 TEU capacity. The ship is registered in Denmark.
"We can confirm that on 2 February at around 23:00 CET, Mumbai Maersk was grounded outside Bremerhaven, Germany. All crew are safe, there is no pollution and no sign of hull breach. The vessel is on ground on a shallow patch and as such the entrance to the port is not obstructed and port operations is running as normal. Sailing from Asia, the vessel had its last stop in the port of Rotterdam before grounding outside of Bremerhaven. 
The vessel was on its way to discharge and consequently the cargo meant for Bremerhaven is still onboard, along with cargo destined for the Scandinavian countries. A first attempt to free the vessel has been performed unsuccessfully. Extra tugs are being deployed and a new attempt is expected at the coming high tide around midnight on 3 February," Maersk's said in a statement.
Mumbai Maersk is reportedly carrying 7,380 containers, according to source familiar with the situation.
An update from Havariekommando said two specialized salvage tugs, Union Sovereign and Union Manta, are en route the scene. 
Copyright Ships & Ports Ltd. Permission to use quotations from this article is granted subject to appropriate credit given to www.shipsandports.com.ng as the source.