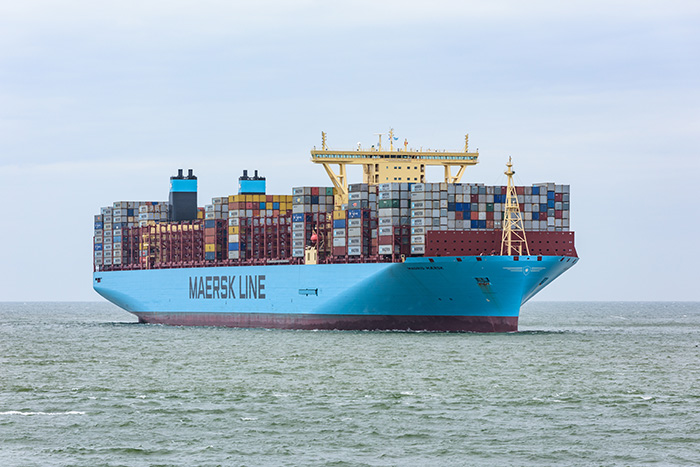 Shares in A.P Moller-Maersk A/S rose as much as 6.9 percent, the most since December 2016, after the world's largest container line said freight rates had recovered from their drop in the second quarter.
The Copenhagen-based company made the comments as it lowered its full-year outlook, a move the market had already priced into the shares.
Maersk Shares Rise as Market Sees Silver-Lined Profit Warning
"Freight rates have restored after a significant drop in Q2, and volumes are growing in line with market," Chief Executive Officer Soren Skou said in the statement. "We delivered good progress in Q2 on revenue, volumes and unit cost across our business, and results improved from a weak Q1."
The profit warning is "not as bad as feared and 2Q18 results are indicating improved cost control," Frode Morkedal, an analyst at Clarksons, said in a note.
Maersk shares have in the past months suffered, hurt by trade war fears and a profit warning from peer Hapag-Lloyd AG. Before Tuesday's announcement, the Danish company, which handles almost a fifth of the world's seaborne trade, had lost about 22 percent of its market value since the start of the year.
The shares, which briefly dropped 7 percent after the announcement, were trading up 5.3 percent at 4:12 p.m. local time in Copenhagen.
Maersk cited declining freight rates and rising fuel costs as it cut its full-year financial forecast. It now expects to report 2018 earnings before interest, tax, depreciation and amortization in the range of $3.5 billion to $4.2 billion. That compares with a previous Ebitda forecast range of $4 billion to $5 billion. The average estimate in a Bloomberg survey of 11 analysts is a 2018 Ebitda of $3.87 billion.
Maersk said second-quarter bunker fuel costs were about 28 percent higher than a year earlier and freight rates were on average 1.2 percent lower.
Maersk, which is due to report second-quarter earnings on Aug. 17, also published some preliminary earnings:
2Q revenue was $9.5 billion
2Q Ebitda was about $900 million
2Q Ebitda at Maersk's Ocean segment was about $700 million
Source: Bloomberg