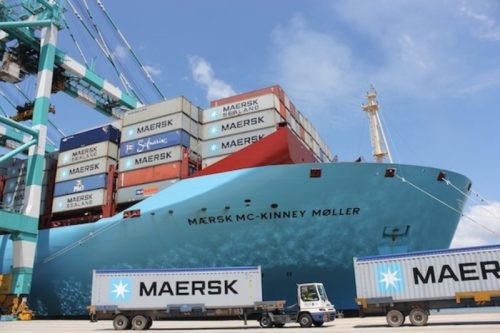 Six Dutch multi-nationals, including Shell and Heineken, have teamed-up with A.P. Moller–Maersk for the largest ever maritime biofuels pilot on a Triple-E containership between Rotterdam and Shanghai.
As shipping seeks way to decarbonise – FrieslandCampina, Heineken, Philips, DSM, Shell and Unilever – all members of the Dutch Sustainable Growth Coalition (DSGC), and Maersk have joined forces in a pilot of using up to 20% sustainable biofuels on an 18,000 TEU containership.
The second generation biofuel, supplied by Shell, is produced by waste sources – in this case used cooking oil. The Triple-E containership will sail from 25,000 nm on a round voyage from Rotterdam to Shanghai and back using biofuel blends also as fuel. The use of biofuels will see a 1.5m kg reduction in CO2 emissions and 20,000 kg of sulphur.
The voyage will take place been March and June this year.
"This pilot testing biofuel on a cross ocean shipping lane, marks an important step. However, many more innovations are urgently needed. These can only be successfully developed, tested and implemented in industry collaborations like this," DSGC Chairman, Jan Peter Balkenende, said. 
Also commenting on the development, the Chief Operating Officer of AP Moller-Maersk, Søren Toft, said, "To reach our net zero CO2 target by 2050, in the next 10 years we need big breakthroughs. Maersk cannot do this alone. That is why this collaboration with DSGC and its members is such an important step in identifying and bringing low carbon solutions to life. It lays the foundation for how cross-industry partners can work together to take steps towards a more sustainable future."
Shipping accounts for 90% of transported goods and 3% of total global CO2-emissions, and is set to rise to 15% by 2050 if left unchecked. The International Maritime Organization (IMO) has set a target for shipping to reduce its CO2 emissions by 50% in 2050 over 2008 levels.
"Biofuels are one of the viable solutions that can be implemented in the short and medium term. Through this pilot, we aim to learn more about using biofuels in general, and to understand the possibilities around increasing its usage in a sustainable and economical way," Toft added.