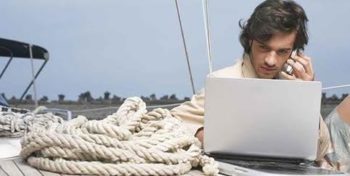 Barely six percent of seafarers have sufficient internet connectivity for video calls when at sea, despite often being away from their families for months, a Nautilus survey of nearly 2,000 seafarers and shipping industry leaders, has stated. 
By comparison, statistics show 91% of UK homes and 85% of European homes have broadband access, with the United Nations recently suggesting that access to the internet should be a basic right, rather than a luxury. 
The findings emerged from a white paper due to be released by Nautilus at a seminar on 30 June to mark Seafarers Awareness Week (24-30 June).
The report also found despite nearly 88% of seafarers having some form of internet access at sea, most have very limited speeds and at high costs.
In addition, only 57% of crew have personal email access and just one third have social media access at sea (34%), leaving the majority of seafarers isolated from friends and families. Nearly two-thirds of respondents (63%) also suggested they would consider moving companies if the new company provided better quality internet.
Of the industry leaders surveyed, one in ten admitted they don't provide their employees with any access to the internet (14%). The two biggest reasons given were fears crews would access illegal or adult content (83%) and the potentially high installation costs (83%). The survey also found that nearly two-thirds of respondents (58%) were concerned the provision would result in a distraction to work.
Nautilus said it has published the white paper to further raise awareness of the current communications provision for those living and working at sea. The union is hoping that shipping companies will then act to provide internet access to all which is free at the point of use.
"It's shocking that in this day and age access to the internet at sea is not viewed as a fundamental right. At home we take this for granted and being able to contact anyone in the world at the touch of a button with devices in our pockets is fantastic. But why shouldn't seafarers also be able to do this?" Nautilus General Secretary Mark Dickinson commented.
"We hope this survey will highlight just how poor connectivity is for our members. With very limited and regulated shore leave, increasing workloads, reduced crewing levels and reductions in the quality of social life onboard, it's essential for the wellbeing of all seafarers that we have free, high-speed internet access. We hope the results of our survey will help to convince shipowners of the benefits of providing internet access and explain how the costs and other counterarguments are outweighed by the positive impact of greater connectivity at sea."   
Copyright Ships & Ports Ltd. Permission to use quotations from this article is granted subject to appropriate credit given to www.shipsandports.com.ng as the source.