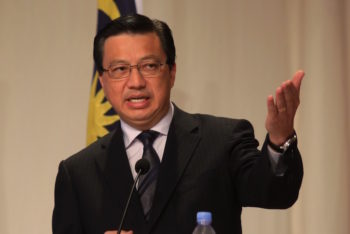 Malaysia is aiming for a Council seat at the International Maritime Organisation (IMO) for the 2018-2019 term, local reports cited Transport Minister Liow Tiong Lai as saying.
"Malaysia is keen and determined to continue playing an active part in achieving IMO's aspirations for safer seas and excellent standard of maritime ecosystem. I'm confident that we can contribute even more by serving in the IMO council," he said, adding that the bid would be made at the IMO general assembly in November.
Liow also announced measures to boost the Malaysian maritime industry as well as attract young people to a career in the industry. Noting that the success of the maritime industry depended on an adequate supply of local seafarers, he pointed out that while thousands are trained every year, many leave to work onboard foreign vessels. As a result, numbering some 6,000, foreign crew working onboard Malaysian-flagged vessels, outnumber the 5,000 Malaysians that continue to work on locally registered vessels.
"To make this happen, the industry must be seen as appealing to new generations as a rewarding and fulfilling career," he said at a Malaysian World Maritime Week event.
In order to do this, the shipping lines and industry must be strengthened first, he said. In line with this, several measures are being planned under the Malaysia Shipping Master Plan to revitalise the shipping industry and maritime sector. These include amending the Malaysian Merchant Shipping Ordinance 1952 to make it easier to register Malaysian vessels, by for example, enabling online registration of ships and vessels, which will help to reduce bureaucracy. Other efforts include training to attract more seafarers in Sarawak and Sabah, Liow said.