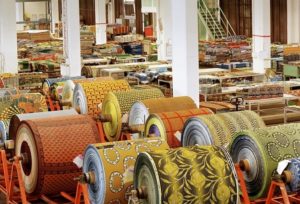 Manufactures Association of Nigeria (MAN) has indicated that about 38 textile manufacturing companies have so far benefited from textile special revival funding window.
With this progress, MAN has proposed a full implementation of the National Cotton, Textile and Garment (CTG) policy to further boost the sector.
The N100 billion mapped out to revive moribund companies in the sector is being managed by Bank of Industry (BOI) on behalf of the federal government and was being disbursed in tranches of N10 billion to beneficiary firms.
In an update on the impacts of the Fund so far on textile firms, Dr. Frank  Jacobs, MAN President, said: "As at December 2016, about 38 textile firms have benefitted from the N100 billion Textile fund with another 22 companies benefiting from support services. The exact numbers of MAN members is yet to be ascertained. However, given the fact that majority of members of NTMA are members of MAN, it is estimated that 30 of the 38 companies would be members of MAN."
According to him, the good impacts of the fund on textile manufacturers in the country that have accessed it includes: "Immediate settlement and takeover of the old debts burdens of textiles manufacturers thereby breathing a fresh financial air into the cavity of these industries. "Provision of the much needed long-term loans for replacement of obsolete machinery, general retooling of textile manufacturers; the production volume of the core raw materials for textile industries increased significantly as cotton growers at the back end of the value chain were not left out. It also improves the sector's contributions to government revenue through taxes, duties, etc."
He further noted: "Independent review of the impact of the intervention funds, sponsored by UNIDO revealed significant improvement in capacity utilization as a result of the intervention funds.
"The BOI revealed that about 8,000 existing jobs were maintained, about 2,000 new jobs were created, while about 1,275 workers that were previously laid off were recalled when some textile manufacturers accessed the intervention funds."