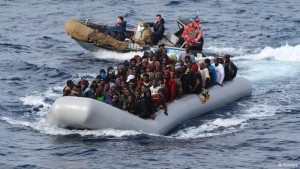 Migrants rescued from a rubber boat that left Libya last week said as many as 30 people were trampled or drowned during their voyage as this year's Mediterranean death toll climbed to more than 1,700, the U.N. said on Tuesday.
They arrived in Pozzallo, Italy, on Monday and said their boat lost its motor and took on water hours after leaving Libya.
Some fell in the sea and drowned and others were trampled during the panic, including a small child, leaving between 20 and 30 dead. Two bodies were recovered.
Migrant arrivals by sea to Italy are up about a third this year to roughly 60,000, and the United Nations High Commission for Refugees (UNHCR) has recorded more than 1,700 dead or missing. More than 50 bodies have been brought to Italy over the past few days and dozens more are feared dead, the agency said.
A second group of survivors from a rubber boat told the UNHCR that 82 were feared dead after falling into the water when their boat deflated last Wednesday.
On the same day, 33 bodies were retrieved, including 13 women and 7 children, when a wooden boat nearly capsized and dumped some 200 into the water as rescue operations began.
Migrants fleeing violence and economic hardship across Africa have repeatedly said that taking to the sea is the only way to escape from captivity and abuse in Libya, where people smugglers operate with impunity.
"Several refugees and migrants landed on Lampedusa over the weekend had gunshot wounds," said Babar Baloch, a UNHCR spokesman in Geneva.
"One man told our staff that he was shot in the leg by members of Libyan militias who also stole his belongings," Baloch said.
"Another man was shot in the arm and tortured by a trafficker to extract money from him. Many survivors also reported having witnessed friends being fired at or killed while in Libya," he said.