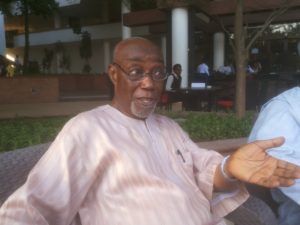 A former Managing Director, Nigerian Shippers' Council (NSC), Dr Kingsley Usoh, has urged importers and other traders to stop bringing sub-standard products into the country.
Usoh made the plea in an interview with the News Agency of Nigeria (NAN) in Lagos on Wednesday.
"There is a standard in China. Our brothers will go to China and tell them to do things lower than their standard and bring them into the country.
"Why are we blaming China? You blame the Standards Organisation of Nigeria; you blame Customs and traders who travel to bring substandard products.
"We need to change the way we do things and put Nigerian first before engaging in any business," NAN quotes Usoh as saying.
He urged Nigerian traders as well as business persons to change the mentality of `Getting Rich Quick' no matter the condition.
Usoh faulted an assertion that "government's policies are affecting importation of goods into the country".
He said it was the state of the country that affected importation.
Usoh said that Nigeria was an import-dependent nation, adding that "until it starts to be producing for other countries, our economy will not stabilise".
The former managing director said that over 70 per cent of what the country used, came from abroad.
He said this was why government used the foreign exchange from oil to pay bills.
"Former President Obasanjo regime tried to salvage us some years ago because we were owing a lot of money and some of those things we were owing were those things we had consumed," Usoh said.
He, however said that government should appoint knowledgeable people to advise it on any measure it intends to take.
Copyright Ships & Ports Ltd. Permission to use quotations from this article is granted subject to appropriate credit given to www.shipsandports.com.ng as the source.